ADL CEO Jonathan Greenblatt's Toothless Response to CAIR Director Zahra Billoo's Disturbing Speech
Gage Skidmore from Peoria, AZ, United States of America, CC BY-SA 2.0, via Wikimedia Commons
Almost a week after I first exposed Zahra Billoo's disturbing comments at the AMP conference, ADL CEO Jonathan Greenblatt has finally commented.
Not in an official ADL press release, mind you, but rather a set of rather lame tweets on Twitter: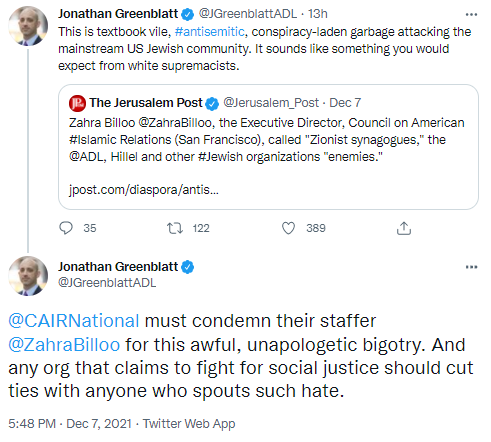 Note how while admitting Billoo's comments were antisemitic, Greenblatt feels the need to compare them to those of "white supremacists." This seems to be in line with the recent ADL proclivity to focus on so-called "Right-wing" antisemitism, as if the antisemitism of the Left and among American Muslims do not exist as their own strain of the disease (they do). For example, in her speech, Billoo clearly mentioned that throughout history, Muslims have been victorious, something no white supremacist said ever.
More than that, he laughably calls for CAIR to condemn "their staffer" Billoo. She is not some underling, but a senior member of CAIR, the executive-director of the San Francisco Bay Area branch. Of course CAIR national won't condemn her – she is speaking in line with their own philosophy. Heck, the ADL has their own dosiers documenting CAIR's antisemitism!
And what does "condemning" her really mean? Issuing a public statement saying they repudiate her comments, while they secretly pat her on the back? Of course, Greenblatt is not asking CAIR to dismiss her, because he likely knows that is not going to happen.
While CAIR will certainly not throw Billoo under the bus, they have condemned the ADL in the past, including last year when they asked their allies to stop working with them.
Greenblatt's tweets seem like a gesture meant to placate those who have been demanding the ADL do something about Billoo's comments. If Greenblatt and the ADL were truly interested in effectively fighting all Jew-hatred, they would do a heck of a lot more than posting a few limp tweets aimed at an organization that will certainly not heed their request.