More Proof BDS Movement Aims For Destruction of Entire Jewish State
Not like these guys
On the official BDS website, they claim their movement aims to end the "occupation and colonization of all Arab lands and dismantling the Wall" adding "International law recognises the West Bank, including East Jerusalem, Gaza and the Syrian Golan Heights as occupied by Israel." And while it also mentions their support for the so-called "palestinian right of return," they claim
The BDS movement does not advocate for a particular solution to the conflict and does not call for either a "one state solution" or a "two state solution". Instead, BDS focuses on the realization of basic rights and the implementation of international law.
All of this makes it sound like the BDS movement is really only against Israel's liberation of territories in 1967, a view that is reinforced by the following question and answer on their website:
As in the boycott against apartheid South Africa, the BDS movement calls for a boycott of Israel's entire regime of oppression, including all of the Israeli companies and institutions that are involved in its violations of international law. BDS does not target identity. It strictly targets companies and institutions based on complicity in denying Palestinian rights.

For example, we call for a boycott of all Israeli fruit and vegetables, regardless of whether they are grown inside Israel or in an illegal Israeli settlements because all Israeli agricultural businesses are involved in human rights violations. We also call for a boycott of all Israeli universities, because they are implicated, to various degrees, in the design, implementation, justification, or whitewash of Israel's crimes against Palestinians.

Just like South Africa under apartheid, Israel as a state is responsible for the occupation, colonization and apartheid policies that it implements.

Some of our biggest campaigns are against companies that operate in illegal Israeli settlements in the occupied Palestinian territory. However, support for a full boycott of Israel's regime of oppression is widespread. Academic associations and groups of academics, writers and artists in the US, Canada, South Africa, Brazil, and across Europe have come out in support of an academic and/or cultural boycott of Israel.

As our movement grows, so do our skills, ambitions and ability to achieve tangible, strategic and sustainable results. Targets are regularly reassessed as the BDS movement grows. ​
The distinction between "all of Israel" and what they call "illegal Israeli settlements" supports the view that they just oppose Israel's "occupation" of 1967 territories.
This might fool most but not those who have been paying careful attention. For instance, BDS co-founder Omar Barghouti is on record opposing Jewish self-determination and the very idea of a Jewish state.
But now we have yet more proof that BDS' goal is the destruction of the entire state of Israel, which it views as an illegitimate 'colonial project."
When they shout "Free Palestine" at the end of the video, know what they truly mean. Because they surely do not expect those of us living in Israel to just leave, or submit to living in a truly apartheid state, which is what "Palestine" would be.
Note also the lies. For instance, they claim 80% were ethnically cleansed (the claim is 720,000 Palestinian Arabs out of the 900,000 who lived in the territories that became Israel). Yet we know many either fled in fear, or left because Arab leaders instructed them to – promising they would return after they defeated the Jews. Some were expelled during the war, but to claim 80% ethnic cleansing is a whopper of a lie. They also claim here that there are 7 million palestinian Arab refugees, when even the hyper-inflated UNRWA number – which includes those who lived in now Israel even only from 1 June 1946, as well as descendants (including adopted children) – is less than 6 million. What's more, they claim all of these 7 million refugees have existed since 1948!
Of course, it is no surprise they would lie about these things, given they regularly lie about their true goals. And their entire cause is based on a huge lie.
They have spoken the truth once before, though: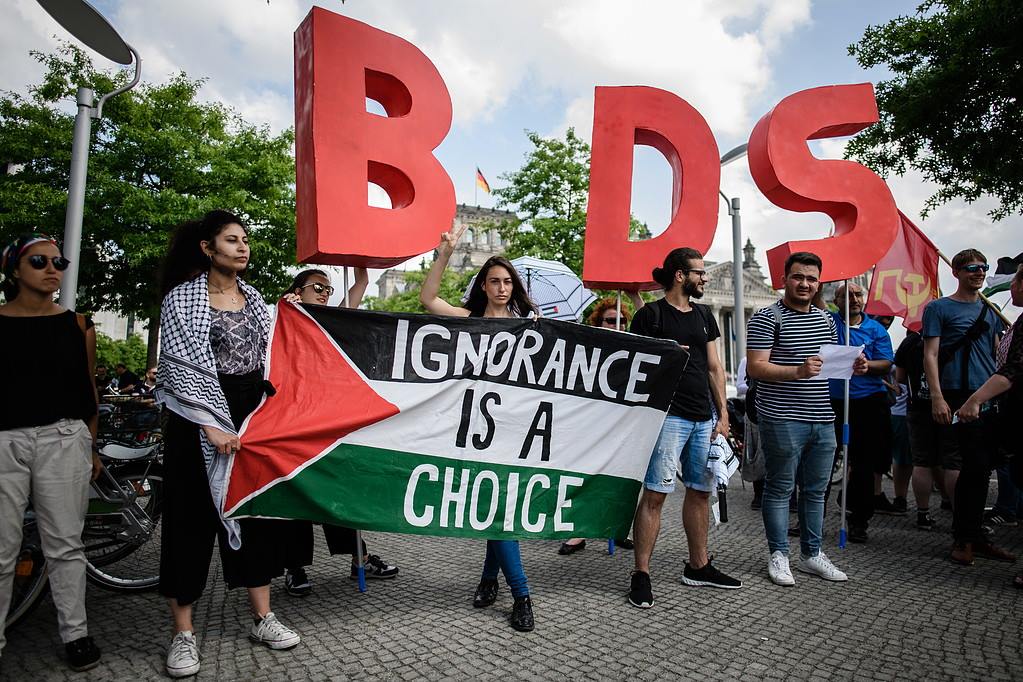 Ignorance is indeed a choice, so there is no excuse to fall for the BDS lies.