Weighting in Gaza
Yesterday, we heard of more uber stupidity from uber tool Lauren Booth, last spotted in a very well-stocked Gaza grocery store.
In her latest rant, Booth managed to compare Gaza to both the concentration camps and Darfur.
In a telephone interview with Ynet on Wednesday, Booth slammed Israel's policies and called Gaza "the largest concentration camp in the world today. I was startled the Israelis agreed to this."

Despite her current predicament, Booth said she has no regrets. "My children are the ones who are suffering, because I'm being prevented from leaving and they can't see me. I don't regret it, because I wanted to come here and help these children who are suffering on a daily basis," she said.

Booth asserted that the current siege is not the result of the policies of the Hamas government. "There's been a siege for 20 years already. Palestinians' freedom of movement has been restricted since the 80s. This is an inexcusable outrage on an international level."

She spoke of the situation in Gaza and said, "Yesterday, I visited mothers of children under the age of five. Nutrition here has deteriorated threefold over the last two years because it is impossible to bring food through the crossings. Unemployment has risen, so people can't even afford to buy what food there is left."

'It's as bad as Darfur'

When asked about Israel's right to respond to incessant attacks emanating from Gaza, Booth evoked Holocaust-related rhetoric. "There is no right to punish people this way. There is no justification for this kind of collective punishment. You were in the concentration camps, and I can't believe that you are allowing the creation of such a camp yourselves."

"The Palestinians' suffering is physical, mental and emotional," she went on, "there is not a family here in which someone is not in desperate need of work, shelter or food. This is a humanitarian crisis on the scale of Darfur.
I think anyone with half a brain realizes that these comparisons are not merely fallacious; they are highly offensive.
Meanwhile, I decided to put Booth's food shortage/lack of nutrition claim to the test. Below are two photographs of Booth. The one on the left was taken two weeks ago, when she first arrived in Gaza, and the right one was taken a week ago.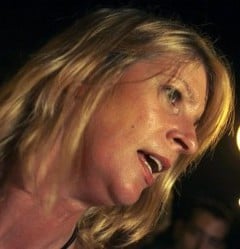 Despite being "trapped" in Gaza, Booth certainly does not look like she has been short of food. If anything, she seems to have gained an extra chin.
Update: Elder of Ziyon also sees the similarities between Gaza and Darfur.