The Day In Israel: Sun May 24th, 2009
Click refresh to see new updates during the day
After meeting with chief Hamashole Khaled Mashaal in Syria, Russian Foreign Minister Sergei Lavrov has said that Russia believes in the need to maintain contacts with Hamas.
Meanwhile, Israel plans to expedite production of unmanned aerial vehicles for Russia after Moscow announced last week it had decided to halt the sale of advanced MiG-31 fighter jets to Syria.
Updates (Israel time; most recent at top)
10:12PM: Introducing the F*** Israel Cafepress store, where you can buy apparel such as this infant creeper.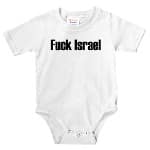 Nice to see the people responsible believe in early child education.
(hat tip: Ilan)
7:42PM: Israel is pistov at Russia and Lavrov.
7:30PM: An independent research company hired by former Prime Minister Ehud Olmert today revealed that 90% of the palestinian "police officers" killed in Gaza during Operation Cast Lead were members of terror organizations.
Meanwhile, occasional Israellycool contributor Elder of Ziyon did his own casualty analysis without any funding from Olmert.
7:20PM: The US State Department has stated that the future status of Jerusalem will be determined through peace negotiations.
5:14PM: Former Israeli Ambassador to the UN Dore Gold speaks to a CNN anchor who clearly forgot to take his meds.
2:32PM: Oprah Winfrey is reportedly about to become a rabbi.
1:40PM:
1:27PM: According to a World Health Organization study, Israelis on average live long lives, among the highest in the Western world.
9:20AM: Hizbullah has predictably denied being behind the assassination of Lebanese Prime Minister Rafik Hariri in 2005.
5:55AM: Palestinians are blaming Israel – for allowing certain things into Gaza.
The Gaza-based organization Al-Damir has issued a report warning of the deadly side effects of harmful pesticides on Gaza farms. The number of cases of cancer reported in children living on farms, and of intestinal cancer in young adults, has risen dramatically over the past two years as Gaza farmers use pesticides with no oversight, the group said.

The group placed blame for the health crisis on Israel. Israel allows Gaza farmers to import dangerous pesticides, Al-Damir charged.

The accusation was unusual, as Gaza farmers have previously accused Israel of failing to allow pesticides into Gaza due to fears that the materials will be used to create weapons.