The Animal Of Toulouse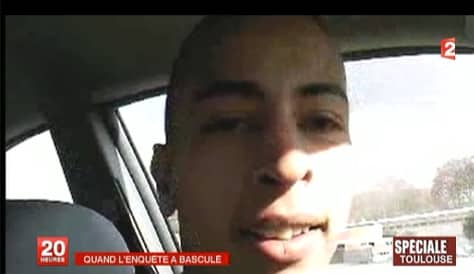 The terrorist who murdered four Jews in cold blood in Toulouse this week was not your typical jihadist.
True, he was an animal, but one of the partying kind.
Mohammed Merah, 23, was a heavy partier and not particularly pious • He was arrested 18 times as a youth, and visited Pakistan and Afghanistan to train with Islamic extremists • He enjoyed watching videos of beheadings, and wanted to kill again.

Othman, a young man of North African descent and a resident of Toulouse, looked stunned on Wednesday. "Mohammed never spoke about politics. He also never raised the Middle East issue," he said. "On occasion in neighborhoods like ours we talk about what's going on in Gaza, but he never joined in or looked bothered by it. Actually, on Sunday evening he was all about going out and partying."

What Othman didn't know was that Monday morning, a few hours after their night on the town, his friend Mohammed Merah, 23, got on his motorcycle, drove to the Ozar Hatorah Jewish Day School and shot four Jews to death, three of them children. According to Othman, there were no warning signs of his friend's violent plot. But then, it seems he knew very little about the hidden dual life of Mohammed, the quiet car body repairman, the motorcycle aficionado, the Quran reader.

This dual life was comprised of, among other things, trips to Pakistan and Afghanistan, belonging to the Salafi strand of Islam – the most extreme version of Sunni Islam – watching Internet videos of beheadings and even showing them to his young nephew. On Wednesday, according to French prosecutors, it had become clear Merah was a member of al-Qaida and that he murdered Jews to avenge the blood of Palestinian children. Moreover, he regrets only one thing: that he couldn't kill more.

Merah, born in Toulouse on Oct. 10, 1988, was actually known around town as a small-time criminal, definitely not "the most dangerous man in France," as he was referred to yesterday. He has a police record with 18 offenses for a variety of crimes, some violent. Attorney Christian Etelin, who represented Merah between 2004 and 2005, mostly in theft cases, described him as "a complicated person." The last time Etelin saw Merah was on Feb. 24 of this year, after he was convicted of driving without a license and causing a car accident resulting in injuries to others.

In 2006, during one of his first stints in prison, Merah's transition toward radicalism began to emerge and he became closer to Islam. It was during this time, according to the French weekly Le Point, "that his two identities began to take shape: the first as a car body repairman and partier who at one point grew his curls out and dyed them red 'to look cool and hit on girls' – and the other identity as a mujahideen (a Muslim holy warrior)

Later on, Merah twice visited Afghanistan and Pakistan, including the tribal border regions controlled by the Taliban. According to Kandahar prison chief Ghulam Faruq, Merah was even arrested in Afghanistan for planting bombs but escaped along with other prisoners during a Taliban rescue operation. Afghan authorities said they relayed information about Merah to their French counterparts, which led to France's Central Directorate of Interior Intelligence (DCRI) placing tabs on him and monitoring his movements.

—-

"I can't believe that shortly after going out on Sunday night, Mohammed went on his killing spree," his friend Othman told Israel Hayom. "On Sunday evening we met. At first we just wandered around and Mohammed was in a totally normal mood. We spoke about nothing in particular. Nothing in his behavior hinted at what he had done a few days before, or what he was planning to do a few hours later. I can't understand what his connection is to the Salafis. He wasn't even an observant Muslim. He didn't pray; he didn't go to the mosque."

Another friend of Merah said that in the Le Mirail neighborhood, where many Muslims live, it's very fashionable to see an image of Osama bin Laden as a cell phone screen saver. Merah never did that, for example. "In fact, three weeks ago we went out to a nightclub and partied like animals. A Salafist doesn't go to those kinds of places."
 
Read the entire thing here.
Let's face it. This was not about revenge for IDF actions in Gaza.
It was about evil incarnate.