Even More Proof Iran Is Arming Gaza Terrorists
Last week I showed here a 107 mm Iranian-made rocket fired by terrorists in Gaza at Israel.
Israel is not the only one being attacked by this type of rocket. The Multinational force in Iraq was hit over and over again with such 107 mm rockets.
After several rockets hit FOB Hammer on July 11, the 3rd Heavy Brigade Combat Team maneuvered to find the source of the attack. Early on July 12, the 3rd HBCT's unmanned aerial vehicle located 46 rocket launchers in the northern section of Besmaya Range Complex aimed at FOB Hammer. Thirty-four of the launchers were armed with Iranian 107mm rockets. The Besmaya Range Complex is adjacent to the Coalition Force base. Soldiers of the 789th Explosive Ordnance Disposal team, currently attached to the 3rd HBCT, immediately responded to the site. According to Capt. Justin Gerken, from Red Wing, Minn., commander of the 789th EOD team, 12 of the 46 rockets had already been used to attack FOB Hammer the day prior. EOD Soldiers were able to determine that the rockets originated from Iran after analyzing the unexploded ordnance. The 789th EOD team was successful in neutralizing the remaining rockets.
There are photos as well: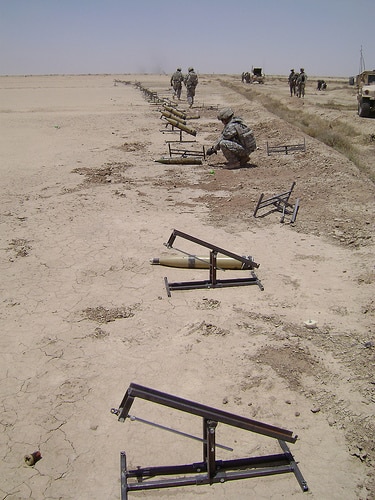 Looks familiar?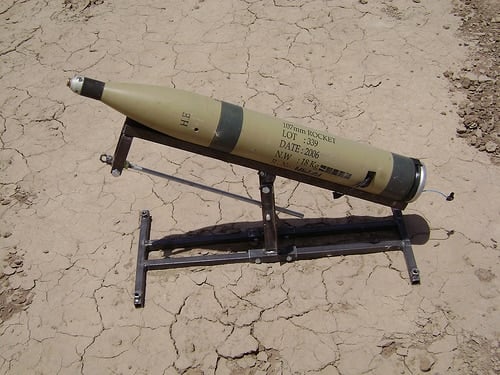 From a different event in 2007:
Further investigation indicated that the 107mm rocket had been manufactured in Iran in March, according to Maj. David Fivecoat, from Delaware, Ohio, the operations officer for the 3rd HBCT.

"The capture of this 107mm rocket is another indicator of the Iranian logistics support to the insurgency southeast of Baghdad," Fivecoat said. "This is the 40th Iranian manufactured rocket that 3rd HBCT Soldiers have captured in the last four months. Over the coming weeks, we'll continue to hunt the cell that conducted this attack.
PJ Media reported on all of this back in 2009, after the capture of the Francop.
Back to Israel, look what popped up a few days ago.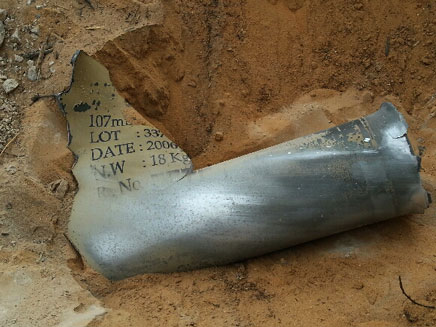 I love my moments of Zen. I found this last image on a Hamas forum, along with the featured image in this post, which was posted by a terrorists fanboy as being launched from Gaza. Not only is that image from 2007, the hosted image description blew me away in irony:
http://4.bp.blogspot.com/_Z4wP5A80j-k/SHca2e01gII/AAAAAAAABIs/BE6ZsXv672k/s400/Iranian_made_107mm_rocket.jpg