More Anti-Israel Publications Quoting Palestinians FOR SodaStream And AGAINST BDS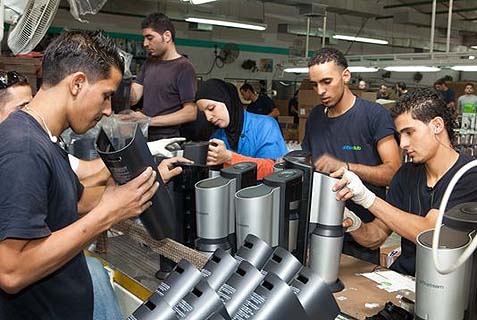 Yes, I realize the coverage of the Scarlett Johansson-SodaStream-OxFam story has reached close to overdose levels, but with the attacks on Scarlett's principled stand continuing, I would like to point out a few more reports from publications certainly not friendly to Israel – besides the Forward piece I already mentioned – which reinforce the notions that (1) palestinians are well looked after at SodaStream and (2) there is palestinian opposition to BDS since it has an adverse impact on palestinian workers.
From the anti-Israel NPR:
We didn't want to quiz employees under the boss's eye. But in a minimart in the nearby Palestinian town of Eizariyah, a SodaStream employee who had worked at the company for three years showed us his ID. But he didn't want his name used.

"It's an excellent place to work," he said. "It provides a good salary and they treat us very well. At SodaStream, they do not discriminate between Arabs, Jews or any ethnic group."
From the Christian Science Monitor, also no friend of Israel:
But those most familiar with the factory – Palestinians who work there – largely side with Ms. Johansson.

"Before boycotting, they should think of the workers who are going to suffer," says a young man shivering in the pre-dawn darkness in Azzariah, a West Bank town cut off from work opportunities in Jerusalem by the concrete Israeli separation wall. Previously, he earned 20 shekels ($6) a day plucking and cleaning chickens; now he makes nearly 10 times that at SodaStream, which also provides transportation, breakfast, and lunch.

As a few dozen men in hoodies and work coats trickle out of the alleys to the makeshift bus stop where they wait for their ride to the factory, another adds, "If SodaStream closes, we would be sitting in the streets doing nothing."

The SodaStream controversy is part of the international Boycott, Divestment, and Sanctions campaign, which Palestinians launched in July 2005 as an effort to force Israel to end the occupation of the Palestinian territories, recognize Israeli Arab's full rights, and promote the Palestinian right of return.

Speaking anonymously on a largely deserted street, with no Israeli SodaStream employees present, all but one of those interviewed said they opposed the boycott, given the lack of alternative job opportunities in the West Bank. That underscores Israeli claims that a boycott would be counterproductive, undermining the cooperation and prosperity that could boost peace prospects in the region.

—-

Omar Jibarat of Azzariah, the father of a newborn, is one of those who works in Israel, leaving home well before 6 a.m. for a construction job in Tel Aviv. Though he makes good money, he spends four hours in transit every day and would rather work at the SodaStream factory 15 minutes away.

"I would love to work for SodaStream. They're quite privileged. People look up to them," Mr. Jibarat says. "It's not the people who want to boycott, it's the officials."

That's a common refrain among the SodaStream workers who show up after Jibarat catches his ride.

Leaning up against the cement half-walls of the bus stop, jackets pulled up over their cold hands and faces and cigarette butts glowing in the dark, they blame the PA for failing to create jobs while taking a political stand against Israeli business that do.

"The PA can say anything it wants and no one will listen because it's not providing an alternative," says one man, a 2006 political science graduate of Al Quds University bundled in a jacket bearing the SodaStream logo. As for reports that the company doesn't honor labor rights, that's "propaganda," he says. "Daniel [Birnbaum, the CEO of SodaStream,] is a peacemaker."
I'm guessing Ali's Electronic Intifada won't be citing these reports any time soon, even though The Abumination has actually been published in the Christian Science Monitor.