Forward Going Backward
Foul winds are blowing from Egypt.
Really. There are strong winds filled with dirt particles from the Sinai, covering the Jerusalem area and much of southern Israel. Those with breathing difficulties, old and young, are advised to stay inside and avoid the bad air.
Yesterday, hearing those morning wind gusts, I hid under the covers, hoping it would be a day without terror attacks. Maybe some young palestinian would decide not to take a kitchen knife and try to stab an innocent Israeli walking down the street. Maybe a young security person trying to protect against these intended murderers would be spared.
Too bad. The nasty weather did not deter car-ramming, gun-toting terrorists in the Gush Etzion area. Reuters got the news of attacks out under a suitable headline, Three Palestinians attack Israelis in West Bank, shot dead: army.
Thanks to Camera for pointing out, "3 Palestinians Killed in Gun and Car-Ram Attacks in West Bank reversed headline by the Forward.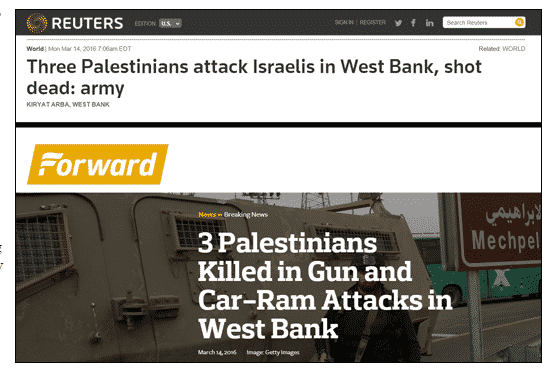 Forward editors how could you?
Maybe, unlike Kathie Lee, who just finished a special trip to Israel, the Forward staff has not seen what is happening around here lately.
So as the foul winds slam against my windows, I want to share a few photos from recent trips to the Gush Etzion area.
First, security cameras were installed around Tzomet HaGush, a junction and area where Israeli and Arab drivers share the road and traffic circle.
But, that did not help.
Two young Israelis lost their lives meters away, in separate terror attacks. Since then, this makeshift memorial has grown.
With each new attack in the Gush, at Tzomet HaGush, new heavier security is tried.
Cement blocks, bollards, rifles, new roads and traffic patterns, are all to reduce terror attacks. I used to take the bus from Jerusalem to the Tzomet and walk to Alon Shvut.
Today, people still use the stop to hitchhike and wait for buses, but an armed soldier – at all times alert – is waiting with rifle raised.
Dear Forward:  Palestinians are killed, because they have been and are still trying to kill Israelis. Please, keep it straight. Reuters got it. For you to reverse the headline, was a huge step backwards.
This area has more soldiers and weapons and security every day. Out of necessity, because of constant attacks. No matter the weather conditions, Israelis have to be on guard.