A man named Matthew Doyle has been arrested on suspicion of inciting racial hatred.
A PR boss who asked a Muslim woman to 'explain Brussels' has been arrested on suspicion of inciting racial hatred.

Matthew Doyle, an LSE alumnus and partner at a south London-based talent agency, sparked outrage on social media after he 'confronted' a Muslim woman about the Brussels attacks which killed 34 people.

He wrote on Twitter: 'I confronted a Muslim woman in Croydon yesterday. I asked her to explain Brussels. She said "nothing to do with me". A mealy mouthed reply.'

His initial post was followed by a number of like-minded tweets such as 'no more Muslim migration' and 'Trump for president'.

The comment went viral, being retweeted hundreds of times before it was eventually removed from Twitter.
The Metropolitan Police issued a statement confirming that a man had been arrested.
'A 46-year-old man was this evening arrested at his home in Croydon on suspicion of inciting racial hatred on social media,' said the Metropolitan Police.

'He has been taken to a south London police station and enquiries continue.'
I believe this is the relevant statutory provision under which he could be charged.
Incitement to religious hatred – sections 29B-29G Public Order Act 1986

Offence

s.29B – use of words or behaviour/display of written material intended to stir up religious hatred

Maximum Penalty
Crown Court – 7 years imprisonment
Magistrates' court – 6 months

Notes
Can only be prosecuted with consent of Attorney General. Referred to CPS Counter Terrorism Division to be dealt with by specialist prosecutor.
s29C is similar, but covers just the "publishing or distributing written material intended to stir up religious hatred."
One could argue whether or not what he said intends to stir up religious hatred.
What should be beyond argument is the type of antisemitism being disseminated on social media by some in the UK is way worse.
Here is just a sample of what I have exposed on the blog. The links contain much more.
https://twitter.com/StrawandHeart/status/709642751067955200
Sue Clark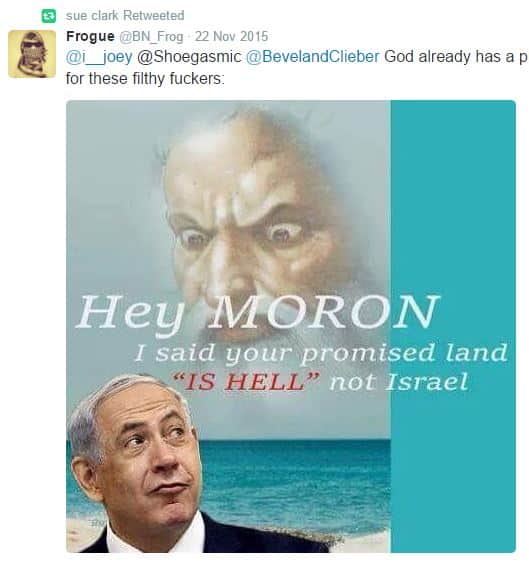 Joanne Stowell
(Who has since removed the tweets in question)
Pamela Hardyment (Twickenham)
David Carter (Cardiff)
Richard Kilgour (London)
And these are just the UK-based Jew haters I have exposed on the blog (so far). There are many, many more out there I have not yet dealt with.
I am genuinely confused. Is there a double standard here? Or is it just that Matthew Doyle's tweets came to the attention of the relevant authorities, and the antisemitic ones haven't?