Linda Sarsour Links To Antisemitic Piece By Hate Site Mondoweiss
Israel hating, faux feminist Linda Sarsour may have gone quiet on Twitter, but she is still busy on Facebook doing her thing.
And her "thing" includes linking to pieces from hate sites, pushing antisemitic tropes about Jewish money.
https://www.facebook.com/linda.sarsour/posts/10155760672500572?hc_location=ufi
The Mondoweiss piece she has linked to is a response to this recent Bari Weiss piece in the New York Times.
Here is an excerpt from the Mondoweiss article to which Sarsour links:
There is a lot at stake here. Ryan Cooper writes at the Week that the Bari Weiss piece is emblematic of a split inside the Democratic Party between big money Clinton donors and the leftwing street. Leftists don't trust Senators Kamala Harris and Cory Booker and former Gov. Deval Patrick, Cooper writes, because of the "probably accurate perception that all three candidates are being groomed by the same big-money donors that clustered around Hillary Clinton."

—

Big money elites (per Cooper) include a lot of older, pro-Israel Jews. Stephanie Schriock of Emily's List said at a J Street event last year that Democratic congressional candidates have to take the AIPAC line on Israel in order to get Jewish donors, whose role she said was "gigantic" inside the Democratic Party. J.J. Goldberg said there's only one game in town:

"You ask a Democratic fundraiser, where do you get the money from? 'Well from trial lawyers, from toys, from generic drugs, from Hollywood. From Jews.' Those are all essentially Jewish industries… When you are raising  money, you need to find rich people who are not right wing, and there are not– pardon me for saying this, there are not many rich goyim who are not right wing. Forgive me for saying that."
Naturally, Sarsour's post attracts antisemitic comments, like this one from someone using the infamous ((())) designation of Jews, which originated with Neo-Nazis.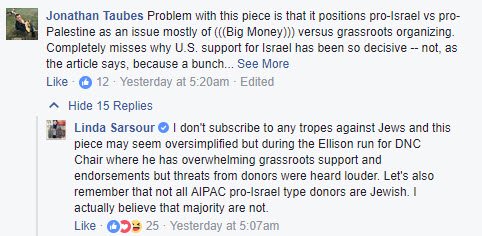 Note Sarsour's response – she does not castigate the commenter for the antisemitism, or delete the comment. Rather, she tries to distance herself from the stench of antisemitism from the piece and his comment, by claiming not all the money is Jewish (just some of it).
She also has this to say about the same commenter.

With many people of the opinion Sarsour is an antisemite, her conduct here will do little to dispel that notion.
Update: It might be that the commenter was using the ((())) just to point out the article was antisemitic, and not because he is antisemitic himself. I apologize if I misread his intent. Nevertheless, the article itself is most certainly antisemitic.
Update: The Mondoweiss article has (naturally) been reprinted on an antisemitic hate site.
https://twitter.com/Local_Terrorism/status/894321380862382080