Over 4 year ago, I posted about deranged antisemite (is there any other kind?!) Catt Waters, a Code Pinker who was fundraising to get to Gaza and thought it a good idea to ask me for money! That fundraising campaign went about as well as her plastic surgery.
Well, she's baaaaack, doing the same ol' same ol' – begging for money to get to Gaza and showing her Jew hatred.
Here is her new GoFundMe page. The accompanying photo almost says it all.
This is a Go Fund Me for myself, Cat April Watters, human rights and social justice activist, radio host for www.PeoplesInternetRadio.com, to join this years Women's Flotilla to Gaza along with other peace activists, to help the Palestinians, who have been imprisoned by Israel occupation for decades and recently, killed my IDF snipers. during Land Day and Nakba, 70 years of catastrophe!

Freedom Flotilla 2018 needs Help in Europe at numerous ports to be ground crew and possible participant on the Boat to Gaza to Break the Blockade. We will have special events in each port highlighting the horrific conditions in Gaza and how we can help.

There are 12 ports in 8 countries needing ground crews. I will be helping at a few of these ports,, PLEASE HELP!
Sweden, Denmark, Germany, Netherlands, UK, Spain, Portugal, Italy.

Mid May to late July is our time frame.

Budget breakdown,, $50 iphone battery charger to livestream without battery running out.

$36 for 3 new batteries for Sony camera flight between JFK and Jerez airport Spain, $1000 room and board for 2-3 weeks, at hostels ranging from $20-$30 a night,, $500 food $200- $300 guestamation,,

In 2018, the Freedom Flotilla Coalition will sail once more against the illegal Israeli blockade of Gaza, for freedom of movement and the right to a decent future for all Palestinians.

Israel has maintained an inhumane and destructive blockade of Gaza for over a decade. The United Nations now says that Gaza will become uninhabitable by the year 2020 because of the Israeli blockade of Gaza.

Children and minors, who make up more than half of the Gaza population of over 2 million, are victims of the ongoing blockade, which has robbed them of their childhood; their rights to safety, education, and health; and their prospects for a decent future. In response to the brutal Israeli blockade, for seven years, the Freedom Flotilla Coalition has carried out non-violent direct actions aimed at raising international awareness and putting pressure on the international community to end.

We will continue to put pressure on our governments and protest their complicity with Israel's crimes against humanity. We will sail again — in 2018 — to stand with the Palestinians of Gaza, as they demand their freedom of movement and their right to a decent future in their land.

100 years ago, the Balfour Declaration wrongly claimed the right to "give away" the Palestinian homeland, and since then the rights of native Palestinians have been eroded and ignored with the complicity of governments around the world, including our own. We call on all humanity to help end the Israeli blockade of Gaza and make this mission a powerful display of solidarity with the beleaguered but proud Palestinians of Gaza.

Support our campaign to sail in 2018 to break the brutal and illegal Israeli blockade of Gaza!
"$36 for 3 new batteries for Sony camera flight between JFK and Jerez airport Spain" – she truly is begging for everything. Which I guess happens when you spend every waking hour spreading hatred of Jews and Israel instead of, say, working.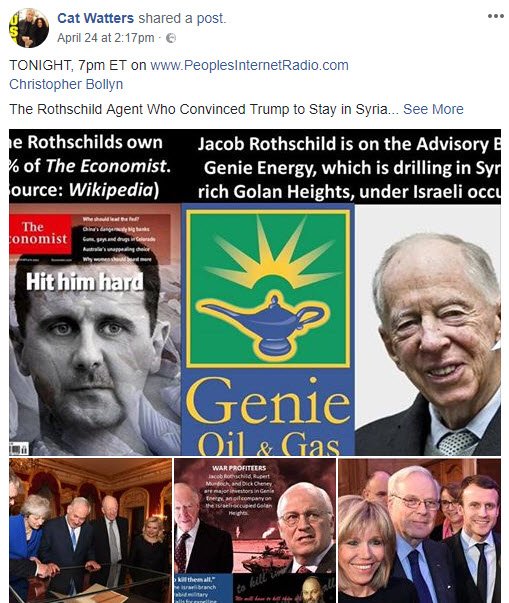 As of the time of this post, she has raised almost $2000. Donors include Code Pink leader Medea Benjamin and infamous antisemite Ken "KOK" O'Keefe.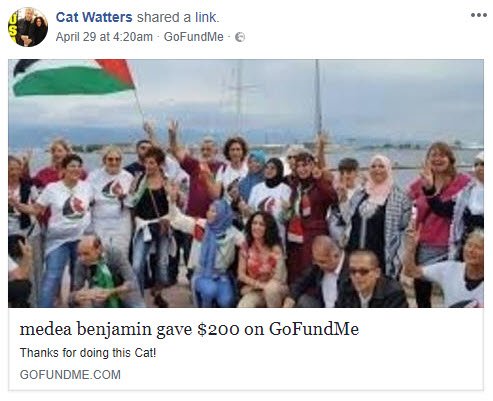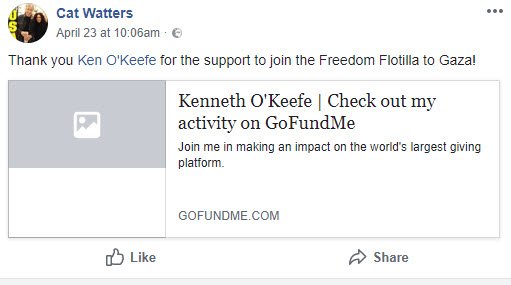 I find it unacceptable that GoFundMe allow a terror supporter and antisemite to use their platform to raise funds. If you agree, here are a few ways to contact GoFundMe about Watters' campaign:
Click here to file a complaint on the GoFundMe website
Click here to comment on the issue at GoFundMe Facebook Page
Tweet at GoFundMe here
Please help ensure Israellycool can keep going,
by donating one time or monthly