Muhammed Desai of BDS South Africa Admits to Working With Rep. of Terrorist Organization
The last time we heard about Muhammed Desai, the Director of BDS South Africa, he had been accused of #metoo-ing a bunch of women. Three women in one night to be exact. He was subsequently cleared by an investigation but the Women's Legal Center in South Africa blasted the decision.
You'd think he'd keep a bit of a low profile. Stay out of trouble. Be on his best behavior. But then, you wouldn't be the disgusting terror-turd that is Muhammed Desai.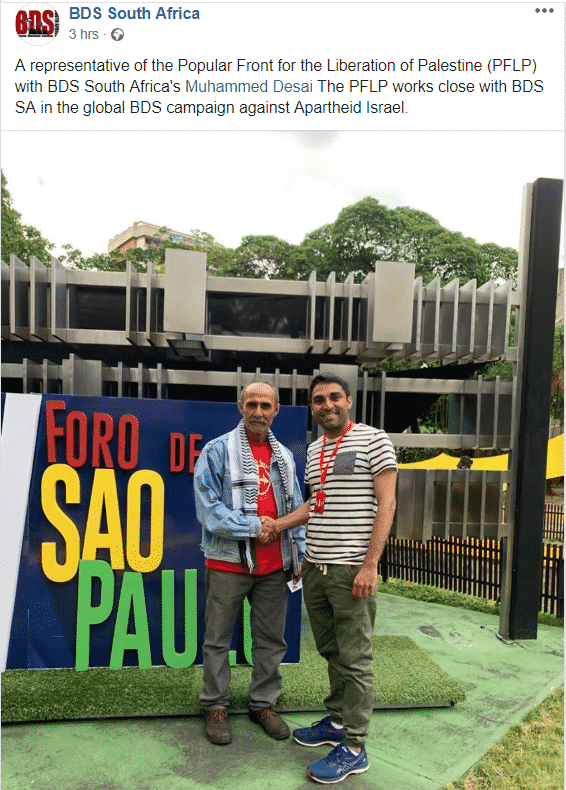 Just as a reminder: the Popular Front for the Liberation of Palestine (PFLP) is a terrorist organization designated as such by the US Japan, Canada, Australia, and the EU. They actually pioneered aircraft-hijackings in the '60s and '70s, and do not recognize the State of Israel, opposing even negotiations with the Israeli government,. They favor a one-state (i.e. no Jewish state) solution.
By posting this on Facebook, Desai is admitting that BDS South Africa works with actual terrorists dedicated to Israel's destruction. This while the BDS movement claims they are for a two-state solution and are only against the so-called "occupation."
What a shame for the BDS Movement that some of their own like Desai cannot help themselves.
He really should work on his impulse control.