How the Zioness Movement Lost Its Way – Part 2
Continued from Part 1
After the Zioness Movement's bright start, I noticed that the original Zioness Brooke Goldstein was no longer posting about it, nor included the #Zioness hashtag on her Twitter profile. Strikingly, I noticed she had publicly taken her former movement to task for their offensive comparison of President Trump with the radical group IfNotNow (which interrupts Birthright trips to detach Jewish youth from Israel and says Kaddish for dead Hamas terrorists).
So I looked deeper at what Zioness has been posting lately and was disheartened and offended. Zioness seems to have become a go-to place for parroting everything the radical left is saying, minus their antisemitism. This includes the unbridled and vulgar bashing of President Donald Trump.
Whatever you think about President Trump, such hateful language against a sitting president is more befitting of Rashida Tlaib who declared "impeach the motherfucker," than to a Jewish communal leader.
Yet when he did something Zionists should agree was good, like moving the US embassy to Jerusalem or recognizing Israel's sovereignty over the Golan, the silence was deafening.
When the radical left was demeaning the memory of the Holocaust by calling illegal immigrant detention centers "concentration camps," and when Alyssa Milano compared Vice President Pence to Nazi leader Heinrich Himmler, Zioness posted this:
You would think a Zionist organization would express outrage at the cultural appropriation of our community's pain. Instead, they minimized it, just like those they were supposedly trying to influence in a positive way towards Jews and Israel.
When Ilhan Omar and Rashida Tlaib were recently barred from coming to Israel due to their BDS activities, Zioness sent out this mail to their subscribers, opposing the Israeli government's decision and blaming it on Trump:
Zioness has gushed love for Megan Rapinoe who actually wants to meet with haters like Alexandria Ocasio-Coretz and Linda Sarsour.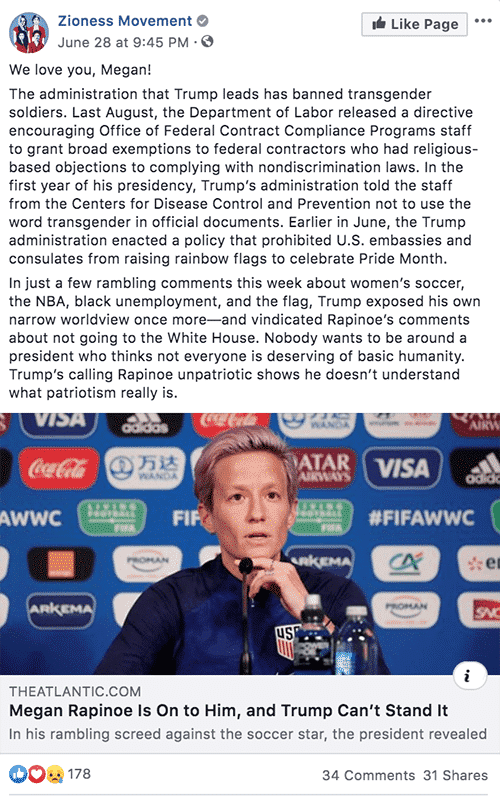 Zioness has also fawned over Stacey Abrams who likewise campaigned with Linda Sarsour, who has apparently refused to meet with pro-Israel activists, and who voted against an anti-BDS resolution.
This past June, Zioness even praised the California Democratic Party for "rejecting discriminatory anti-Israel resolutions" when in fact the resolutions support Congresswoman Rashida Tlaib's trip to "Palestine," blame Netanyahu's "extremist" government for lack of peace, and defend anti-Semite Rep. Ilhan Omar. If this is a victory for Zioness, then their bar is dreadfully low.
Even more bizarre was this tweet:
That's the British Labour party lead by antisemite Jeremy Corbyn!
Zioness has also stated that "we must demand a zero tolerance policy" on Islamophobia when charges of Islamophobia are routinely used to silence critics of theologically-motivated antisemitism.
They even reposted Wajahait Ali, an antisemite who has defended Ilhan Omar and who peddles the narrative that pro-Israel organizations are behind the rise of Islamophobia.
What is the difference between groups like Zioness and J Street? I'm now not so sure. Zioness has become so doctrinally motivated that the organization has refused to come out in support of the US recognition of Jerusalem as Israel's capital, has remained silent on Israel's sovereignty over the Golan, and has not once expressed support for the US backing out of the Iran deal, or for this administrations' cessation of funding to UNRWA. Instead Zioness has become a mouthpiece for an obsessive anti-Trump agenda, advertising the hashtag #TrumpIsARacist and posting incessantly about the President. If the point of Zioness was to resist the politicization of antisemitism and make support of Israel a non-partisan issue, it has failed miserably.
Update: Part 3 here.