Antisemitism, Terror-Support and Threats of Violence & Genocide at Abbas Hamideh's Anti-AIPAC Rally
Yesterday, Abbas Hamideh, the antisemitic terror-tubby and friend of Rashida Tlaib, held a rally outside AIPAC.
It was pretty much what you would expect from him and his Al Awda "Right of Return" organization and – in fact – almost all of those chanting "From the River to the Sea."
Did you catch the anti-Zionist-not-antisemite who got sloppy?
Or the Harvey Weinstein lookalike threatening violence (while holding his phone with Israeli tech)?
The calls for "Death to Israel!"?
The guy who explained what the "V" sign means (clue: NOT "peace")?
The terror-tubby himself shouting out "Resistance (aka terrorism) is justified!"?
The man threatening a new Holocaust (while terror-tubby Hamideh smiled in the background)?
Also spotted at the rally: more blatant antisemitism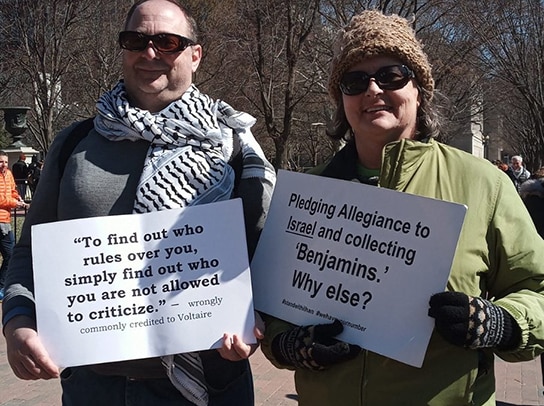 And terror-tubby with some Israeli tech of his own
Please join me in sending this post to Paypal so they can close down the account of Al-Awda,PRRC.