New York Times Colluded with Terror-Linked NGO For "Child Victims" Pictorial
As I posted last week, the New York Times featured a slideshow showing the children killed during the recent conflict between Hamas and Israel.
What I didn't realize was it also appeared front and center on the front page of Friday's print edition.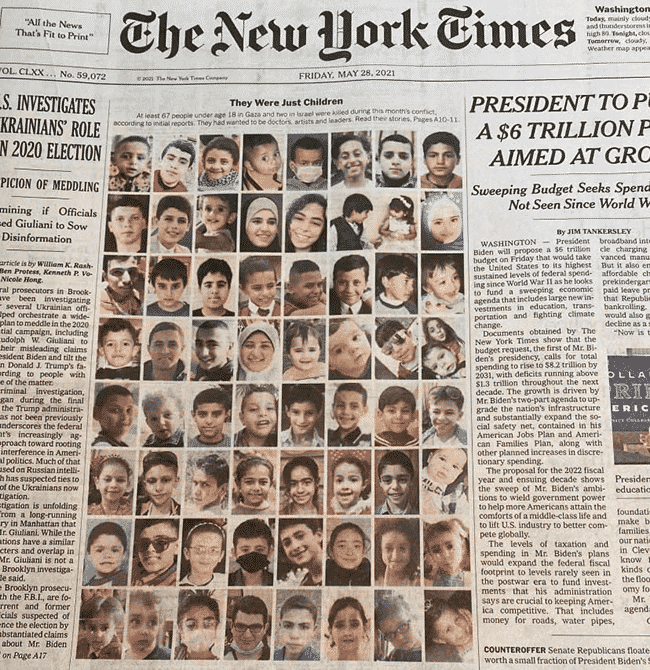 To put things into more perspective, the children marked in yellow are palestinians known to have been killed by Hamas rockets misfiring, while the ones marked in green are Israeli children killed by Hamas rockets fired with the intent to kill. It is entirely possible some of the other palestinian children killed were also victims of misfired Hamas rockets.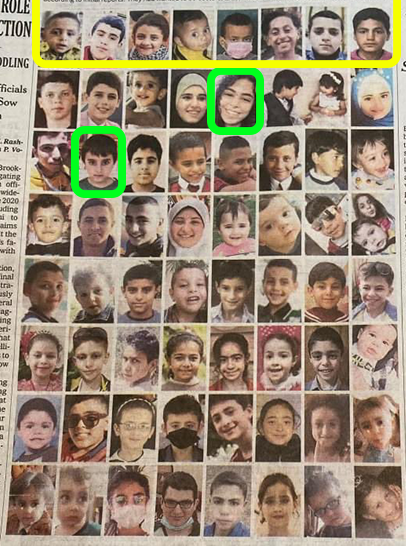 What is clear is the deaths of all of these precious children are the direct result of Hamas' double war crimes: firing rockets from around their own civilians at Israeli civilians.
By the way, the photo of the girl, third from left in the top row, is not even of the alleged victim.
There is something else really disturbing about this front page spread. As I mentioned in my post on the slideshow, the NY Times claimed:
The identities of the children killed, their photographs and the circumstances of their deaths came from their parents and other relatives, teachers and schools in Gaza and Israel, international rights organizations, Palestinian officials, social media, and news organizations in Gaza and Israel. Most of the details were corroborated by multiple sources.
It turns out the Defense for Children International Palestine (DCI Palestine) was a primary source:
Numerous individuals with alleged ties to the terrorist organization Popular Front for the Liberation of Palestine (PFLP), have been employed and appointed as board members at DCI Palestine. And this reflects in their "work."
Think about this for a second: The New York Times published something with the help of a NGO with connections to terrorists. And not just something – it was a front page spread.
Rotten does not even begin to describe what has been going on with this newspaper for years.