Haters' Latest Dangerous Lie: Jews Set Fire to Muslim Cemetery in Jerusalem
A number of antisemites, led by Mohammed El-Kurd, have alleged that "settlers" set fire to Bab El Rahma cemetry in Jerusalem.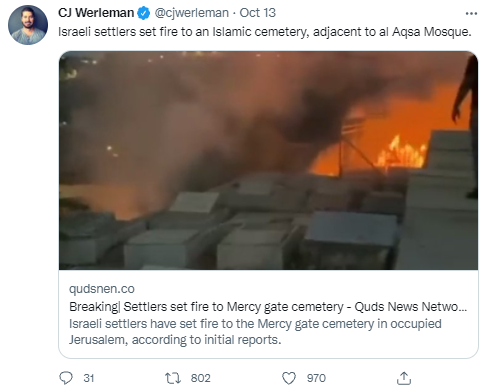 Once again, this is almost certainly a malicious and dangerous lie being disseminated by those actually trying to instigate more violence against Jews.
For a start, these haters provide no proof whatsoever as to the culprits (or even location). We just see a video of a fire near Muslim graves. Surely if 'settlers' were behind the fire, someone filmed them doing so.
Not only that, but Arabic media and social media reported that palestinian Arabs have been burning containers "near the Yusufiya cemetry in Jerusalem… in protest against the exhumation of the graves of Muslims buried" there. This is the "nearby Islamic cemetery" to which El-Kurd refers in his tweet.
The Yusufiya cemetery extends along the eastern wall of Jerusalem's old city and to the north of Bab al-Rahma cemetery that extends along the eastern wall of Al-Aqsa Mosque. They are about 350 meters from each other.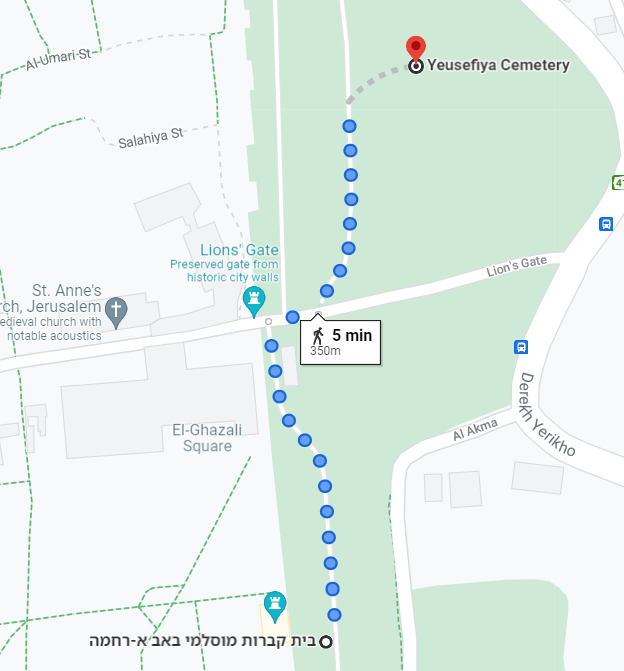 So the most likely scenario is that the footage we are seeing is actually from the Yusufiya cemetery fires, and not from Bab al-Rahma as is claimed. There is also a chance that palestinian Arabs replicated the same fiery feat at Bab al-Rahma, although that is less likely because it has not been reported at all. The least likely scenario is what the haters are claiming, due not only to the absence of proof but the likely reaction if it was true.
But since when do these people deal in facts?
Hat tip: Michal