Martina Navratilova Tweets and then Deletes Antisemitic Libel
Yesterday, anti-Israel Twitter account Palestine Online tweeted the following video and description:
Haters were quick to condemn the Jews for this "mosque desecration" – haters such as former tennis star Martina Navratilova, who we already know loves to demonize Israel: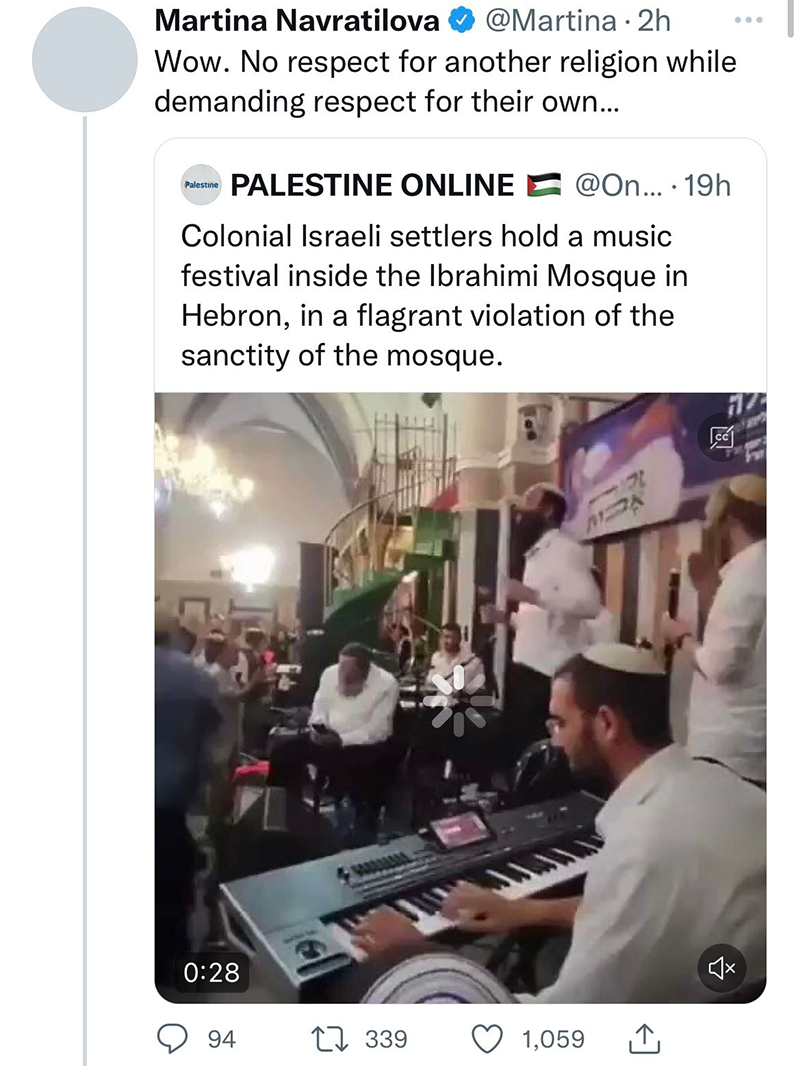 The video, of course, does not show what the haters are alleging. It shows Jews performing a joyous prayer in the Cave of Patriarchs, one of our holy sites, ahead of Yom Kippur. Even the secular David Ben Gurion understood the site's significance in Judaism.
The singing and dancing did not take place in the Ibrahimi Mosque area of the site, but rather a synagogue. And these are Jews, the indigenous people of the land, not "colonial settlers"- they had every right to be at the site, per all agreements.
Martina would like to lecture us on lack of respect for other religions, yet under Jordanian rule, Jews were not allowed in the area. Following the liberation of our land in 1967, Israel has allowed the waqf (Islamic charitable trust) to control 81% of the building. Jews are not permitted to visit the Cenotaphs of Isaac or Rebecca, which lie entirely within the southeastern section, except for 10 days a year that hold special significance in Judaism. And Israel does not allow Jewish religious authorities the right to maintain the site and allows only the waqf to do so.
And let's not forgot how 19 years before the modern state of Israel, the Muslims slaughtered the Jews of Hebron.
If Martina wants to see real disrespect for another's religion and holy places, I give her exhibit A.
I am not sure whether Martina was made aware of any of this, but she did subsequently delete the tweet. Not that she apologized for disseminating this libel or seemed at all contrite: