West Dunbartonshire Councillor Who Brought Forward Boycott Motion Hearts Hamas
Old and busted: West Dunbartonshire councillor Jim McElhill's hate-filled comments to pro-Israel activists.

New hotness: West Dunbartonshire councillor Jim Bollan's hate-filled comments to pro-Israel activists.

[click images to enlarge]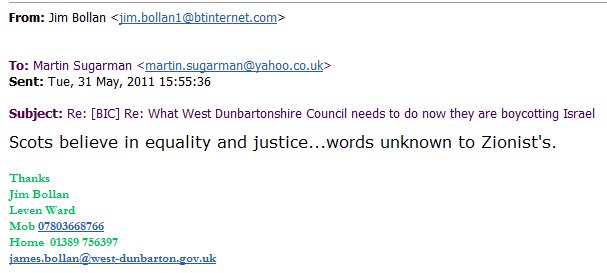 That's right, folks. In that second mail, Bollan – the councillor who brought forward the motion to ban books from Israel to begin with – actually called Hamas "freedom fighters."
This flies in the face of public statements by fellow councillor Jonathan McColl, who doesn't seem to share this charitable view of Hamas.
Over here, McColl writes:
You'd have to ask Cllr Jim Bollan what his personal motivations were for bringing this forward, but I do not believe him to be racist. I have never found him to talk down or discriminate against anyone.
He may have to reevaluate.
Update: The Scottish Palestine Solidarity Campaign characterizes the campaign against the West Dubartonshire Council's decision as "demented Zionist hysteria." Interestingly enough, they feature the following photo and caption of Bollan, to make him seem reasonable:
Needless to say, there is no mention of Bollan's Hamas quote above.
Demented hysteria? Hardly.
Update: In yet another example of Ynetnews getting its stories from blogs, they have posted the same story from CiF Watch (without a link, of course). They also interviewed Bollan, who remains defiant.
Responding to a Ynetnews inquiry, Bollan confirmed that the statements attributed to him were accurate, and added the following: "One important point I made that strangely was not published along with my comments on the enclosed blog was that Hamas was elected with a bigger majority than the Israeli government."