Palestinians Celebrate Murder of Israelis In Har Adar Terror Attack (With Video)
This morning, a palestinian terrorist murdered three Israelis around Har Adar, near Jerusalem: border policeman Solomon Gavriyah, 20, and civilian security guards Youssef Ottman, 25, from Abu Ghosh and Or Arish, 25, a resident of Har Adar.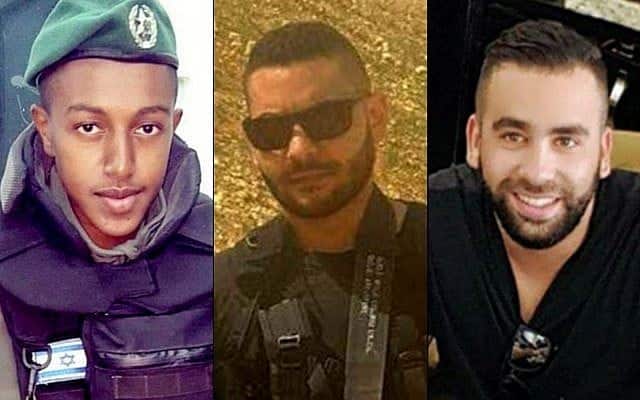 May their memories be a blessing.
The terrorist was reportedly a palestinian laborer with a valid work permit – and a troubled past:
The terrorist, identified as Nimer Jamal, was a 37-year-old resident of Beit Surik with no record of security offenses, who held a work permit for the Seam Zone in the West Bank.

An initial inquiry into the attack uncovered Jamal suffered from severe personal and family issues, including domestic violence.

He was embroiled in a marital spat with his wife after reportedly physically assaulting her. She fled to Jordan, leaving him with the couple's four children
So he no doubt saw killing Jews as a way out – and paradise.
Meanwhile, the palestinians are painting him as a hero, and celebrating his murderous deeds.
Including Mahmoud Abbas' Fatah, who have pledged to pay his family
https://www.facebook.com/officialfateh1965/photos/a.1592095977715743.1073741829.1591249977800343/1935255980066406/?type=3
And of course Hamas
But also the man on the street, with Gazans celebrating the way they know and love – candy.
A spokesman for Abbas's Fatah org praised the terrorist who murdered 3 Israelis. Palestinians in Gaza gave out candy celebrating the attack. pic.twitter.com/cXnfGvyTty

— Ofir Gendelman (@ofirgendelman) September 26, 2017
In the meantime, the murderer is also being lionized on social media.
https://www.facebook.com/ShehabAgency.MainPage/photos/a.182662565109505.38264.179609608748134/2112793188763090/?type=3
While the palestinians incite, perpetrate and glorify murder, there is no chance for peace. And they sure as hell do not deserve a state, even if you subscribe to view they somehow did beforehand.
Update: More sick reactions from the usual suspects.
Your support for the occupation is what produces "violence and terror." Stop EU support for Israeli occupation, apartheid and terror. https://t.co/nhjdpX1YJv

— Ali Abunimah (@AliAbunimah) September 26, 2017
Resistance is justified when people are occupied.

Glory to the martyr.

— Joe Catron #SaveSilwan (@jncatron) September 26, 2017