Israeli-Arab Accused of Spying For Iran Hobnobbed with BDS-Holes
Yesterday, it was announced that a 50-year-old from the Arab city of Tayibe in central Israel accused of spying for Iran was a man named Ayman Haj Yahya.
On April 7, the Shin Bet announced it had arrested an unnamed citizen – now known to be Yahya – on suspicion of having links with Iranian intelligence agencies and providing intelligence on strategic sites in Israel.

The man was arrested on March 16 in a joint Shin Bet and Israel Police operation. At the time of his arrest, authorities seized encryption devices, as well as a disk drive that he tried to destroy during his arrest.

He had been in contact with Iranian intelligence officials, according to the investigation, as well as an operative of the Popular Front for the Liberation of Palestine in Lebanon, Khaled Yamani.

The man had also held meetings with Iranian intelligence officers several times while abroad during which he is said to have received funds, training, secret encryption tools and more so that he could continue to be in contact with his handlers "in an encrypted manner even after his return to Israel," the Shin Bet said.

According to the security agency's investigation, as part of his meetings with Iranian intelligence officials, he was asked to provide information on several issues, including security and strategic sites in Israel; the way in which the rifts in Israeli society could be deepened; recruit Israeli-Arabs to help Iran; and carrying out terror attacks against targets in Israel in the name of liberating Palestine.
According to an Israeli tweeter who investigated, Yahya was a senior member of the Israeli-Arab Balad party for almost 20 years and also ran the branch of the Taibe movement. In his spare time, he would travel to visit BDS-holes around the world.
קבלו את זה.
אתמול הותר לפרסום שמו של מרגל ערבי אזרח ישראלי, תושב טייבה, שריגל לטובת איראן.
כבר כמה שנים שהוא מעביר לאיראנים חומרים רגישים על כוחות צבא בעזרת מכשירי ריגול מוצפנים.

לבחור שלנו קוראים איימן חאג יחייא. קראתי את כל הדיווחים על הסיפור ברשתות הישראליות ולא מצאתי》》》 pic.twitter.com/2p0zevnsGF

— Amit deri (@amitd441) April 20, 2020
Sure enough, if I enter his name into Google search in Arabic, I get the same guy
And here's a story in Arabic confirming it
So while it is already clear the BDS movement knowingly hang out and collaborate with questionable types, such as terrorists.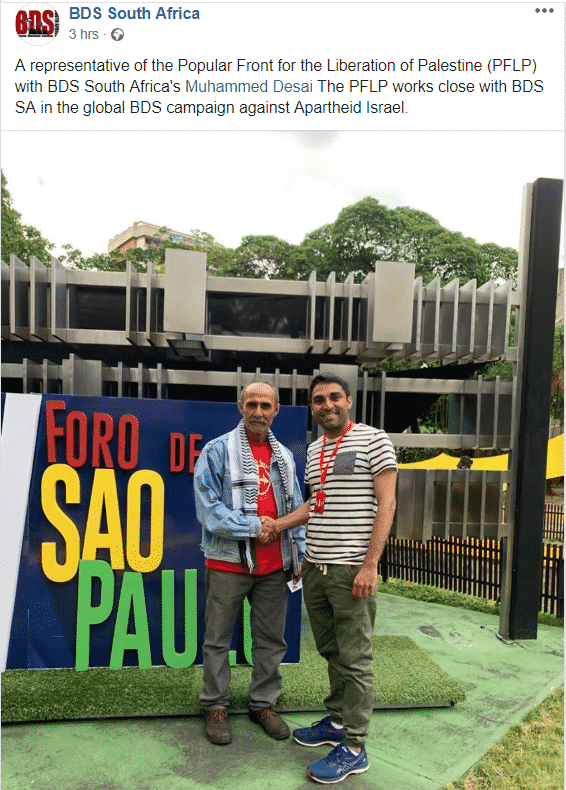 The question here is: did they knowingly assist Yahya in his spying activities for Iran?
Update: That's actually BDS South Africa with him in the photo.