Latest Libel: Israel Demolishes a Palestinian Coronavirus Testing Center
The Israel haters have been reporting that Israel demolished a palestinian drive-through coronavirus testing centre in Hebron.
Even some notables have been condemning us for it. Like antisemitic former Labour MP Chris Williamson (I guess the word antisemitic was superfluous)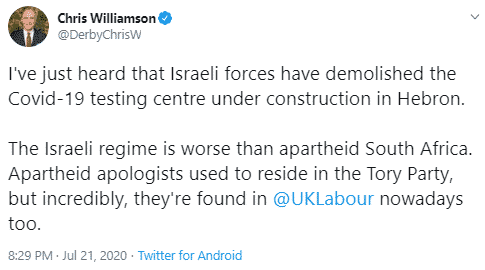 and Canadian MP Matthew Green
COGAT has adamantly denied the accusations, explaining that the foundation was built at the site in question both illegally and for private purposes, with a sign stating it was a coronavirus center being hung up there only after the stop work order was issued.
https://www.facebook.com/cogatonline/photos/a.830536870375332/3048643048564692/?type=3&__xts__%5B0%5D=68.ARB5ETm8CqgW7AmWlNwLOos4FzCj3HawV9hbbFqblm1U5GhX2yPmPGDdO9pcFUQxBppFgmOw2wAJ-E1AZV0JfR_cjT0Pu66jlf1Gt8QHryFyJ01sATjf_i19rm6wOXhMqnN6EF3CJAL_WnhwL-UqncZkYuVv_YziwEmJQ4Yl4TfVaNSxsbqpqhg0idoQAntbfzUzvj4solLepIogznF4kimmZGEfCEbCtJK3Nu6frn9cy3QxGdBTAEadWWo4AC1j2r3pJvVSJXA1DqB0xsa2IIr9Oq_biSNApWstGzY3Ih3SoA41FYKqkZ_XpKTxugavy2JJei9CUMZezHENjs3rftM4fw&__tn__=-R
While based on previous experience, I would believe COGAT over the palestinians any day of the week, let's assume we still need to ascertain who is lying.
As usual, I look at the palestinian reports to see if there are inconsistencies, usually a tell-tale sign of porky-pies.
And sure enough, they cannot keep their story straight.
According to Middle East Eye:
Israeli authorities have demolished a Palestinian drive-through coronavirus testing centre in the city of Hebron, south of the occupied West Bank.

—

Raed Maswadeh, a 35-year-old engineer whose family owns the land in which the drive-through test service was being built, told Middle East Eye that three months ago the municipality had appealed to Palestinians to raise funds to build the facility.

"My family decided to donate our land at the northern entrance of Hebron for the purpose of constructing a Covid-19 test clinic," Maswadeh said.

It was built in the memory of his grandfather, who died recently due to coronavirus, and Maswadeh said the project cost his family around $250,000.

—

Maswadeh said that they started building the centre without a permit, like many properities in the area.

"If we applied for a permit, we would not have gotten it. We thought maybe during Covid-19, there would be some exceptions," he said.

—

Maswadeh told MEE that construction had been ongoing for two months, while Israeli soldiers patrolled the area. The soldiers watched bulldozers and building equipment enter the site, but said nothing, according to Maswadeh.

However, on 12 July, they received a military order to stop the construction, which was handed to them by an Israeli army commander.
But Mondoweiss reports that
So when a local resident of Hebron approached the mayor about donating a plot of land to be used for a local field hospital, Abu Sneineh immediately got to work.

"We pulled together the funds from local donors and immediately began working on the field hospital," Abu Sneineh said, adding that the plot of land is located right outside the entrance to Hebron city, near an intersection leading to Route 60, a main settler highway in the West Bank.

—

But earlier this week, just a few days after construction on the field hospital began, a number of Israeli military jeeps pulled up beside the hospital's skeleton frame.
So we have one version claiming one family funded it and construction began two months ago vs another version that a number of donors funded it and construction began a few days ago.
I rest my case.