Comedienne Chelsea Handler Backs Antisemitic Terror Supporter Huwaida Arraf For Congress
Remember when comedienne and TV host Chelsea Handler came to Israel? At the time, she referred to it as her homeland.
But that was 2015, and this is now. Since then, Handler "Woke" up, and has since joined the trendy Israel-bashing brigade. She even posted a clip of Jew-hater Louis Farrakhan (before posting a lame apology).
And now this: she is endorsing  antisemitic, Israel-hating terror supporter Huwaida Arraf and has retweeted her lie-ridden campaign video: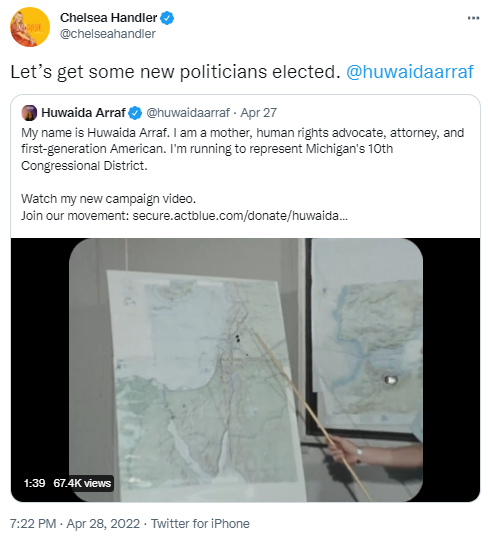 Why do I care? Handler has a whopping 7.8 million followers on Twitter, and another 4.4 million on Instagram and 2.5 million on Facebook. So as obnoxious and vile as her views are, there are people listening to her.
Arraf is currently lagging far behind in the polls, and one can only hope this continues, despite this celebrity endorsement.