It's been a while since I mentioned Scotland's West Dunbartonshire Council and its decision to ban books from Israel. The whisky counter boycott seems to be going well, and has received a fair bit of coverage (including this article from the Forward which sees fit to label me and my fellow blogger Jameel "pro-settlement Right-wingers", which is entirely irrelevant to the issue at hand*).
In addition, the Israeli embassy in London has acted – by sending the council some Israeli books. Despite this tame act, the council's response has been, shall we say, disproportionate (hat tip: Scotfella).
WEST Dunbartonshire Council is on parcel bomb alert after a number of councillors received international death threats.

Police last week gave elected members and mailroom staff a safety briefing and provided advice on how to look out for suspicious packages sent to their work – and home.

This comes after a council decision to boycott Israeli goods sparked outrage with some members of the Jewish community.

Some councillors have been bombarded with threatening emails, letters, and late night phone calls.

Councillor Jim Bollan said: "The death threats and vile offensive hate messages from right-wing Zionists will not work. The non-violent, proportionate boycott by the council remains in place and these death threats will not change that situation.

"In recent weeks I have been called a cretin, racist, bigot, anti-Semite, a******e, motherf*****, Nazi, idiot, lowlife, brainless, moron, scum, pervert, b******, w****r, savage, beast, animal, scumbag, Hitler and a p***k. (No mention of "iidiot" (sic), "dummy", "cowardly racist thug", "racist dummy", and "facsit" (sic), to which I was subjected by councillor Jim McElhill – Aussie Dave)

"The death threats have been handed to the police who are investigating. The police have briefed all councillors on personal safety issues including the handling of mail through the post."

West Dunbartonshire Council agreed to boycott Israeli goods over two years ago in protest at the killing of Palestinians at the time – but it only came to the attention of Jewish people via the internet a few weeks ago.

Dozens of internet users have since retaliated online by calling for a boycott of this area and sending strongly-worded emails to councillors and even letters to the Lennox Herald complaining about the boycott, however, police recently became involved due to death threats being issued by a minority of people.

A briefing session was arranged for councillors and staff by police last week and a memo, which was sent out ahead of this special meeting, read: "Following the receipt of threatening emails by some elected members, Strathclyde Police wish to provide, as soon as possible, advice on personal safety and the handling of mail delivered to your homes.

"Thereafter, and having considered the level of risk, should you wish to have mail redirected to one of the main council offices, this will be arranged. Redirection can be for periods of 1, 3, 6 or 12 months."

Council leader Ronnie McColl revealed that a suspicious package addressed to council chief executive David McMillan was received on Monday.

He said: "The mail room identified the box as it was heavily packaged – but it turned out to be a load of books that were apparently sent from the Israeli consulate."

National newspapers, the Jerusalem Post and Jewish Chronicle, recently ran articles claiming the council boycott meant the banning of all Jewish books, however, the local authority insists this is not the case.

Council leader Ronnie McColl said: "The books recently posted by the Israeli consulate will be put to use in our libraries."

Dumbarton police chief inspector, Fergus Byrne, said: "We are aware of the council policy and a number of comments being made about that policy on the internet.

"At this stage this is a matter for West Dunbartonshire Council, although naturally we will provide advice and guidance as required.

"No criminal acts have been reported to us at this stage."
For the record, I led the charge to contact the councillors and posted their phone numbers on this blog, but condemn any threats of violence if anyone did employ such tactics. I say if, because I have first hand experience with a campaign by the council's supporters to manufacture such threats.
It all revolved around my words on this blog post about councillor Jim Bollan. After publishing his antisemitic mails to a purported pro Hamas activist, I wrote "Jim Bollan: you are going down". It should go without saying what I meant by these words is Bollan would be exposed for wrongdoing and lose his position, especially considering I don't advocate violence. But a Scottish Socialist Party Campsie branch member went out of his way on Twitter to claim I was threatening Bollan with violence, and tried to bully me to step down.
As if I would do that.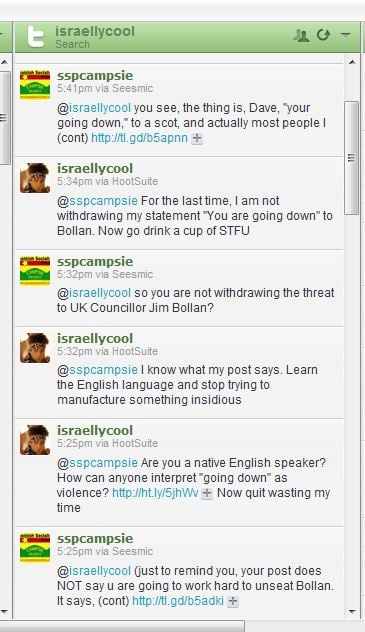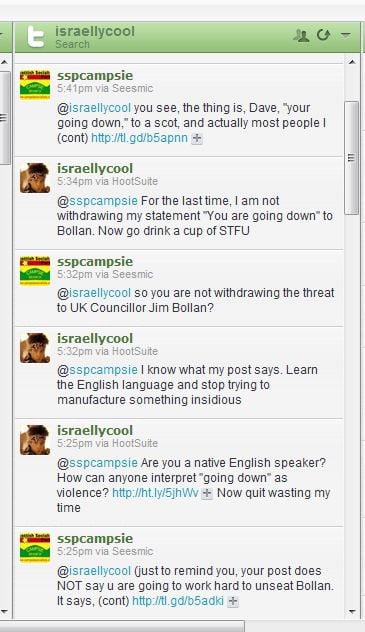 He even reported me to the Scottish police, which alerted me to the fact the Scottish police are on Twitter, leading me to tweet them myself with a link to my post on Bollan's Hamas support. Suffice to say, I am not holding my breath that they will act against him, but it at least shut up the Scottish Socialist Party Campsie branch member.
Anyway, I implore you all to continue acting against the council in a democratic, non-violent way, whether via the whisky boycott, contacting the councillors via phone or mail, or alerting people to the pro-terror and borderline racist statements of its councillors.
*Dear Forward staff, you can stop sending me emails about articles to post about. This "pro-settlement, Right-winger" is so not interested)
Please help ensure Israellycool can keep going,
by donating one time or monthly