Antisemitic Friend of Rashida Tlaib & Linda Sarsour Abbas Hamideh's Disgusting Tweet About Monsey Attack
Abbas Hamideh, an antisemite and terror supporter I have posted about a number of times, reacted this way to the recent shooting attack in Monsey (hat tip: Stefanie):
In short: "don't worry, folks. They were anti-Zionist Jews!" (I guess it is easy to mistake them for the "regular kind" of Jew)
The chilling implication is clear: had they been like 99% of all other Jews – Zionists (since Zionism is an integral part of Judaism) – their murders would have been justified, or at least not worthy of condemnation.
His Facebook friends seem to agree.
Will his friends Rashida Talib
and Linda Sarsour
condemn him, given they have posted their "condemnation" of the attack?
Incidentally, Hamideh seems to think even Zionist Jews belong in New York – perhaps just to be shot up. But his buddy Linda is not so sure they belong there.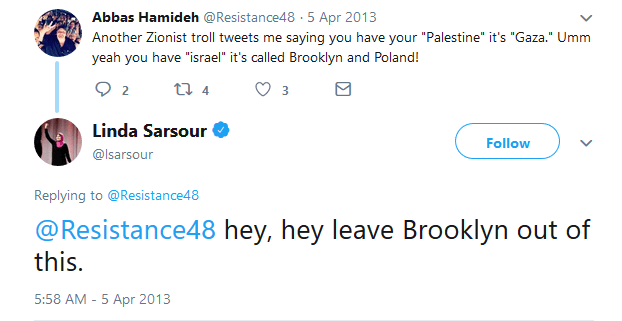 Update: He's doubling down.
Update: It's also a lie: the group that was attacked is part of the Agudah movement and supports the UTJ Party in Israel. While not Zionist, they are pro-Israel and Rabbi Rottenberg of the synagogue has no affiliation with Mr Weiss (not a rabbi; he is self ordained) who does not speak on their behalf. The synagogue itself issued its own statement which thanked the State of Israel for their support (hat tip: Dovid).