The Day In Israel: Monday Mar 1st, 2010
Australia has abstained from a UN resolution demanding that Israel and the palestinians investigate possible war crimes during Operation Cast Lead, in a move seen to be linked to tensions over Israel's alleged use of forged Australian passports in the Dubai killing of terrorist Mahmoud al-Mabhouh.
Three months ago, Australia voted against a similar resolution which sought to endorse the Goldstone report – a UN-sponsored paper which accused Israel and Hamas of war crimes.

The Foreign Affairs Minister, Stephen Smith, said yesterday that the change was not related to the passport scandal and that Australia abstained because the latest resolution did not specifically endorse the Goldstone report.

"Our vote on the resolution was neither determined nor influenced by recent events," he said. "The Australian government always considers UN resolutions on a case-by-case basis and on their merits. Australia abstained on this resolution because, unlike previous resolutions, it did not endorse the Goldstone report."

Six other countries also changed their votes, including Germany, Italy and the Netherlands. Some countries, such as Britain, France and New Zealand, shifted from abstention to support. Others, such as the United States and Canada, voted against both resolutions.

Britain, France and Germany have all recently expressed anger at Israel after their passports were caught up in the Dubai plot.

One Department of Foreign Affairs source told the Herald there was no doubt the decision to abstain was intended as a sign to Israel not to take Australian support for granted.

"A number of things made it easier for us to switch our vote," the source said.

"Firstly, the Americans helped the Palestinians to soften the wording of this resolution compared to the last one. Secondly, a number of other countries had indicated that they were toughening their own positions on Goldstone. But there is no question that the debacle surrounding our passports being used in Dubai helped to make up the government's mind to abstain. The final decision was taken late on Friday, Australian time, just a few hours before the vote.

"Our pattern in the past has been to vote with the US when it comes to Israel, to show as much support for Israel as possible.

"We were also aware that the UK's decision to vote in favour of the resolution was influenced by the fact that so many of their citizens had been caught up in the Dubai assassination."

The opposition foreign affairs spokeswoman, Julie Bishop, yesterday accused the government of downgrading its support for Israel as part of its campaign to win a UN Security Council seat.

"I don't understand the government's change of heart," she told the Herald.

"The Coalition's position has been consistent. Having voted against the Goldstone report, we would continue to vote against it … Since coming to office the government has weakened Australia's long-held position of supporting Israel at the UN."

Mr Smith last week publicly summoned the Israeli ambassador, Yuval Rotem, over the suspected use of three forged passports by Israeli spies in the Dubai killing. Mr Smith warned that if Israel was behind the forgeries "Australia would not regard that as the act of a friend".

Israel has refused to confirm or deny involvement in the assassination. Its embassy in Canberra would not comment yesterday on the passport scandal or on Australia's UN vote.

The Prime Minister, Kevin Rudd, who has described himself as a lifelong supporter of Israel, indicated on Saturday he did not believe Israel's public response to the incident was acceptable.

Mr Smith has been fiercely critical of the Goldstone report, saying it was excessively focused on Israeli actions and paid insufficient attention to Hamas's rocket attacks against Israel.

Privately, Israeli officials expressed little concern at the vote, saying the new UN resolution simply expanded a plan for internal Israeli investigations of the allegations raised by the Goldstone report.
Meanwhile, contrary to the last statement, the Jerusalem Post reports that Israeli diplomatic officials are concerned by the fact Dubai "is slowly dripping out information" about al-Mabhouh's killing to keep the issue alive and make Israel squirm.
Updates (Israel time; most recent at top)
9:55PM: Earlier today, I posted the Dubai police chief's comments regarding Israelis not being allowed into the UAE (see 5:46PM update).
Well, there's more.
We will not allow those who hold Israeli passports into the UAE no matter what other passport they have," Tamim said.

He did not explain what procedures would be used to identify the Israeli visitors, except that the police will "develop skills" to recognize Israelis by "physical features and the way they speak."
Why do I get the feeling the following picture – or something similar – will feature in the Dubai police training?
9:45PM: In case you thought palestinian stone throwers were harmless..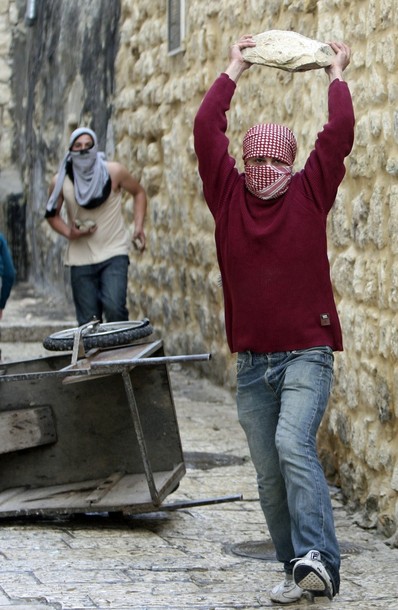 A Palestinian youth lifts a rock during confrontations with Israeli police in Jerusalem's Old City February 28, 2010.  Israeli police raided a plaza near the al-Aqsa Mosque in Jerusalem on Sunday in response to stone-throwing protests by Palestinians, an Israeli police spokesman said. REUTERS/Ammar Awad
I'm sure being hit in the head by one of those would cause a fair bit of damage.
Heck, I know it for a fact, since it happened to a friend of my wife's.
By the way, I find it curious that the caption writer admits the palestinian is lifting a rock, but refers to stone-throwing protests. In my mind, a stone is smaller than a rock.
6:00PM: Israeli Defense Minister Ehud Barak speak to CNN's Christiane Amanpour.
5:46PM: Travelers suspected of being Israeli will no longer be allowed into the United Arab Emirates even if they arrive with alternative passports.
But if you are an Islamic terrorist, enjoy all the UAE has to offer.
4:48PM: There's an elephant in the room.
And it's mother is a rabbit.
19-year-old rabbit raiser in Jenin said he was "shocked and terrified" when his newest animal gave birth to what he described as a tiny baby elephant on Sunday.

"I was concerned when I saw a black baby elephant next to nine white baby rabbits," Alawna told Ma'an, adding that the creature died only five hours after it was born. He said he was baffled as to how the elephant was produced.

The mother rabbit, Alawna explained, is a Dutch breed which he bought six months ago from a farmer in the northern West Bank village of Jaba in Jenin district.

Muhammad Alawna raises rabbits as a hobby on his small farm north of Jenin, and works construction in Israel during the week.
I'm just wondering when the palestinians will claim it is a mutation brought about by exposure to a Zionist Death Ray.TM
4:32PM: Dubai's police chief has said the Mossad has insulted Dubai and countries whose forged passports were used by its agents in the killing of Hamashole Mahmoud al-Mabhouh.
"Mossad shouldn't come to us. We haven't done anything to Israel. This is an insult to us, to Britain, to Australia, to Germany and to New Zealand and it's shameful," Tamim told reporters in Dubai, a member of the United Arab Emirates.
Apparently, Dubai was not too insulted about hosting a known terrorist working to bring deadly weapons to other terrorists, and who himself was traveling under a variety of identities.
1:14PM: The palestinian cabinet has held its weekly meeting in Hebron "to strengthen the connection between the PA and the city, and demonstrate its importance to the palestinians."
Of course, the palestinian connection to Hebron is over 80 years old.
11:52AM: The Jerusalem Post reports on the impending Israeli Apartheid Week, a week of campus moonbattery in cities across the world.
The sixth international Israeli Apartheid Week kicks off on Monday, with the "week-long" festivities taking place over 14 days in over 40 cities across the globe.

Organizers say this year's events are meant to "educate people about the nature of Israel as an apartheid system and to build Boycott, Divestment, and Sanctions campaigns as part of a growing global BDS movement."

The IAW's Web site says 2010's apartheid week "takes place following a year of incredible successes for the Boycott, Divestment, and Sanctions (BDS) movement on the global level."

Organizers say the event will not only push for an end to "colonization of all Arab lands" and the "full equality for Arab-Palestinian citizens of Israel," but also the dismantling of the West Bank security fence and the right of return for Palestinian refugees

IAW released a trailer on YouTube earlier in February, showing a series of pastoral and urban West Bank and Gaza scenes as concrete sections of the wall plummet from the sky and mar the landscape. Halfway through the video, the words "Boycott, Divest, Sanction" appear and obliterate the wall.

IAW began in 2005 only in Toronto but by 2006 had spread to Montreal and Oxford, adding five more locations in 2007, including New York. In 2008, 19 additional locations were added, and by 2009, IAW was held in 27 cities. This year, over 40 cities are part of the proceedings, from Cape Town to Beirut to Melbourne.

The first IAW was organized by the University of Toronto's Arab Students' Collective in order to show  "solidarity with the people of Palestine and other oppressed nations. The first IAW was a five day event that featured lectures on the Nakba, as Palestinians refer to the dispersal of their population in the pre-state Israel following the 1948 war, as well as Palestinian prisoners, labor apartheid, and the Apartheid Wall. It also featured a lecture on 'Resisting Apartheid' that featured Haifa University professor Dr. Ilan Pappe," according to IAW.

Noah Kochman, chair of the political affairs and advocacy department of the Canadian Federation of Jewish Students at McGill University in Montreal, said that activists at McGill and other universities in Canada will seek to counter IAW by reaching out to what according to him is the 80 percent of students "who don't know about Israel and haven't made their mind up about Israel yet."

Kochman said that in addition to "combating the harassment and intimidation of Israel supporters on campuses and the demonization of Israel," groups like his are moving to "harder-hitting, countering campaigns." These include the "don't play with the truth campaign," in which the CFJS will hand out "truth cards" on campus to dispel what Kochman says are misconceptions about Israel, in addition to hosting a series of pro-Israel speakers on Canadian campuses.

Kochman says his group won't seek to avoid politics or change the subject, saying they will directly address issues such as the Goldstone Report, Operation Cast Lead, and the Gaza Blockade. Kochman also said that IAW, for its part, does not address the peace process rather, "is devoted to the demonization of Israel."

Dax D'Orazio, media coordinator for Students Against Israeli Apartheid at Carleton University, told The Jerusalem Post Sunday that his organization and others that are taking part in IAW are working "with the university community to launch a socially responsible investment policy that will work against investment in groups that violate labor rights and international law."

D'Orazio discounted criticism that IAW is devoted to delegitimizing Israel or is anti-Zionist or anti-Semitic in nature, saying that such criticism "is part of an ongoing campaign to blur the line between the advocacy of Palestinian rights and anti-Semitism."
Yep. Nothing anti-Semitic about it.
Meanwhile, here's the official trailer for Israeli Apartheid Week 2010.
Seems to be missing some important elements, such as even a clue to the terrorist attacks that gave rise to the security fence to begin with.
6:05AM: King Abdullah of Jordan yesterday stated the international community must take immediate measures to protect the holy sites in east Jerusalem from unilateral moves on Israel's part.
Thank G-d for Jordan, the epitome of Holy site protector.