Where are We Now?
It has been a busy week around the Middle East.
There are security concerns from Nigeria to Iraq,
current events extend to New York City and UN and Washington, DC.
Over the holiday period, Arab rock throwers injured Israeli police and civilians in several locations.
Incitement from their leaders is working, and Arab violence is increasing and keeps growing.
Where are We Now?
Bloomfield Park, which is near Montefiore Windmill,
during the Jerusalem March and Arab men walk safely, no lock down, barriers or bombs.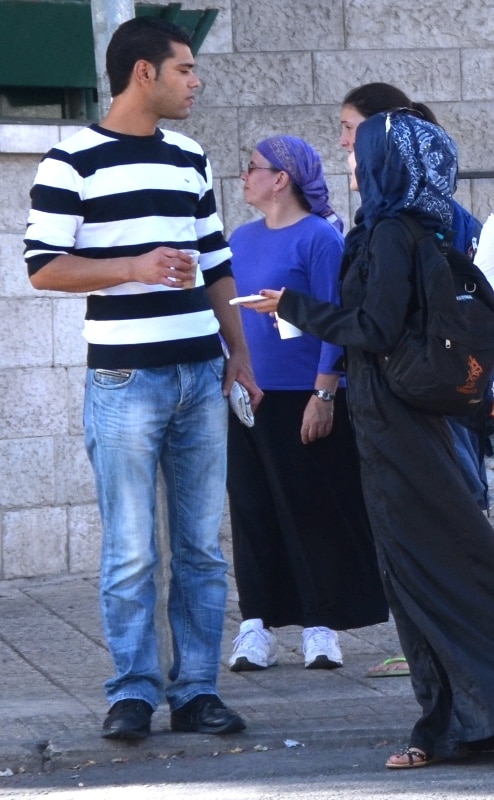 This couple waits for light on a street corner.
 Where are We Now?
The corner is where King George Street becomes Keren Hayesod Street, minutes away from the Old City.
During the holidays the streets were filled with Israelis and visitors,
yet there was never a threat to a lone Muslim couple in the center of town.
They could buy a drink and use a cell phone in the midst of the crowd.
This last one is way too easy.
Where are We Now?
Where else in Middle East can a young Muslim couple shop and walk hand in hand?
On Jaffa Street along the Jerusalem light rail tracks in the midst of Sukkot visitors.
Yes, there were media photos of violence and protests, but you had to go looking for trouble,
the truth is much less exciting, on the Jerusalem streets with no signs of BDS or apartheid.