"Boycott Puma" a Cringy Fail in More Ways That One
Since 2018, the BDS-holes have targeted footwear company Puma, after they signed a four-year sponsorship deal with the Israel Football Association (IFA). Recently, the BDS Movement announced an International Day of Action for September 18th:
Puma is worried about the growing boycott campaign.

In a leaked internal memo, Puma said Israel's escalation of violence against Palestinians in May led to an increase in enquiries from its "business partners and ambassadors" about its complicity in Israeli apartheid.

Last month, global advocacy organization SumOfUs asked to meet with Puma about its support for illegal Israeli settlements. Not only did Puma accept, but even the agitated CEO joined!
Yeah, Puma have been so worried about the calls to boycott them, they recently actually ramped up their investment in Israel!
Israeli powerhouse Maccabi Playtika Tel Aviv and Puma have signed a five-year, multimillion deal, the team announced Thursday.

Per the press release: Maccabi Tel Aviv basketball club and the sports fashion giant Puma have signed a strategic five-year cooperation agreement worth millions of shekels, under the Puma Hoops brand. As part of the agreement, Maccabi Playtika Tel Aviv will play with Puma threads, with exact copies of the uniforms available for purchase in the club's stores for the first time in 19 years.

The Puma Hoops brand, imported to Israel by El-Srad – Factory 54, breaks through with a huge concept store in the Tel Aviv port. The store in the beautiful port area is one of the three largest stores in the world.

—

As part of the agreement, Puma produced all the professional clothing of the senior and youth team especially for the Maccabi Tel Aviv basketball club. In addition, Puma will produce the clothing of the club's children's and basketball schools.

The official club store will also work in collaboration with Puma Israel and will offer an international shopping experience at the store. As mentioned, this is the first time after almost 20 years that it will be possible to purchase the official team uniforms in the club official shop at the arena, as well as on the club's official website and app. In addition, a lot of clothing identical to the one that will serve the Maccabi senior team will be offered for sale.
So, yes, this campaign has been a huge BDS fail. So much so, the haters have been inventing fake successes about this campaign for years. Some couldn't even boycott Puma themselves!
It has also been a fail in another way – the International Day of Action a few days ago gave rise to some of the cringiest 'activism' you'll ever see.
One of the themes has been of mixed metaphors, with BDS-holes loving to bring their spoons to commemorate the Gilboa prison escape of terrorists that ultimately failed. As I have previously posted, palestinian Arab propaganda lied that the terrorists used a spoon to escape, leading to protest scenes like this:
That's one seriously creepy looking couple of protesters. They have serial killers written all over their faces, and they might just use a spoon to accomplish it!
American SoThick, anyone?
Others also used a spoon as part of their protest shtick, not to applaud the temporary escape of terrorists, but rather to celebrate Ben & Jerry's recent decision to boycott parts of Israel hurt their own bottom line. Besides coming with a spoon, some also came with a creepy, serial killer look: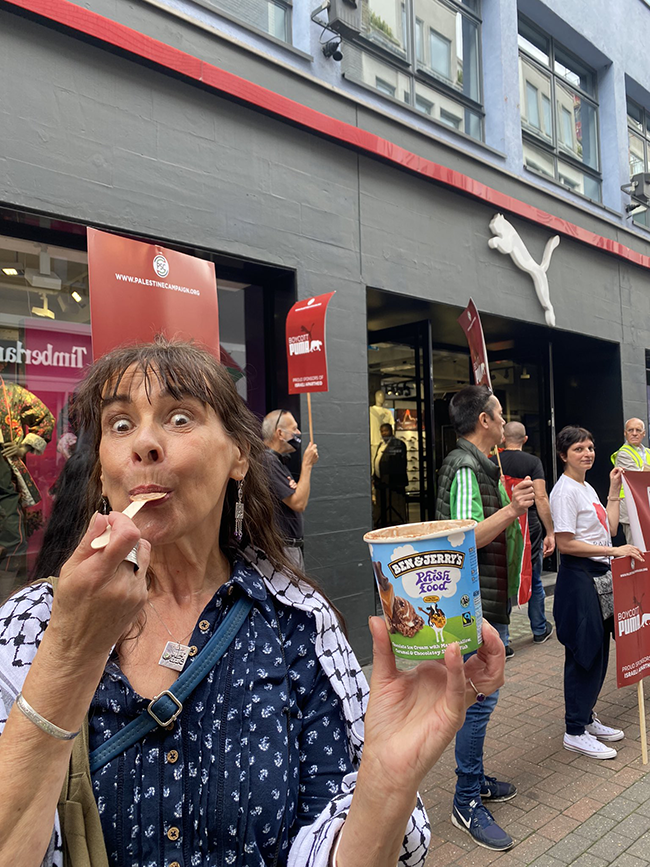 These people truly seem to be a cutlery drawer short of a spoon.
If I were to guess, I'd say they are also really bored. At least they are providing us with some entertainment.