The Real Doctors Without Borders
There were two terror attacks today in Gush Etzion. In one, we knew one of the boys who was injured and his family for many years. It is always painful when someone is injured, or worse killed.
In the other attack, which has not been so widely reported and not far away, a bus with Muslim tourists was stoned by Arab stone throwers.
I saw a Facebook post by the wife of a young Israeli doctor (this photo was not taken today, just she wanted to put a face to her story).
This is not an unique situation. It happens way too often in Israel. Sometimes seriously injured terrorists are treated before the victims they were trying to kill.
Help share her story:
My husband is waiting in the operating room for two patients. The first is a terrorist who was injured while caught trying to kill others. The second is an innocent bystander who was almost killed in an act of terror.

Now show me another country that will bring its terrorists for treatment at a major public hospital that is collapsing under strain of the masses and lack of budgeting. Show me another country that will put terrorists and victims in the same recovery room.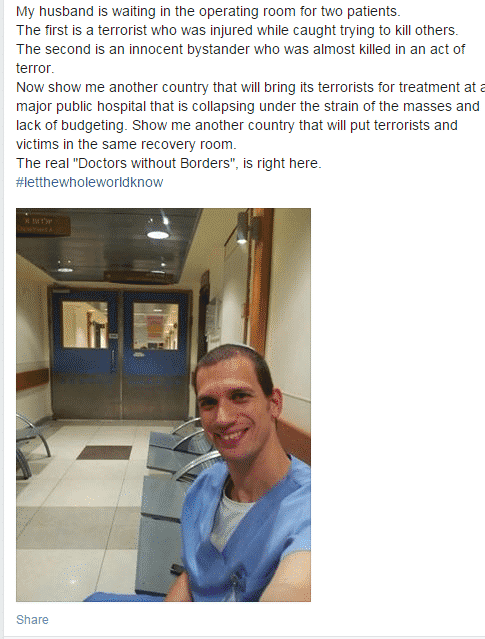 She is so correct, when writing, the real "Doctors without Borders", is right here.
We know.
Now #letthewholeworldknow