The Day In Israel: Tues Oct 20th, 2009
Israeli Prime Minister Binyamin Netanyahu has pledged that Israel will ensure the Goldstone report is vetoed at the United Nations General Assembly.
"It's going to the UN," the premier told lawmakers from his Likud party. "We'll make sure it gets vetoed."
He sounds confident. The question is: should he be?
Senior diplomats in New York, meanwhile, said the United States would prefer to support a moderately-phrased resolution on the Goldstone report by the UN Security Council, rather than use its veto power to nix such a resolution.
Updates (Israel time; most recent at top)
8:00PM: The BBC has an interesting article on Bedouin who serve in the IDF (hat tip: James).
At least the first part of the article (reproduced below) is interesting. Beyond that, and you encounter traditional BBC Israel-bashing territory.
The traditional view of the Arab-Israeli conflict is of Jews fighting Muslims. But that image does not always reflect the truth.

In fact, there are thousands of Muslim Bedouin who serve in the Israeli army, or IDF, and even bear arms against their fellow Muslims in the occupied West Bank and Gaza.

They do so although it is not compulsory for them to serve in the Israeli military, as it is for most Israeli Jews, and sometimes military service comes with a price tag.

"I will do whatever is required from me to do the job with the full faith in the service of the Israeli state," asserts Maj Fehd Fallah, a Bedouin from the village of Saad in the Israeli occupied Golan.

He is happy to perform his duty, whoever he may have to fight against.

Funeral for members of the Heib Bedouin clan, killed in a Hezbollah ambush in Southern Lebanon in 1995
Bedouin have fought and died alongside Jewish Israelis in the army

"Yes, I have fought against Muslims in Gaza," he says. That includes Israel's three-week Operation Cast Lead which began in December last year.

"And I would fight again if I had to," he added. "Israeli Muslims who don't serve in the IDF should be ashamed for not serving their country."

Israel's Bedouin are a Muslim, Arabic-speaking group. Although these formerly nomadic people were once considered part of the Palestinian nation, most of them are now proud to call themselves Israelis.

Co-operation between Jews and Bedouin began before the establishment of the Israeli state in 1948.

In 1946, tribal leader Abu Yusuf al-Heib sent more than 60 of his men to fight alongside Zionist forces against their Arab neighbours in Galilee.

More than 60 years on, Maj Fallah's devotion to the Jewish state was unequivocal. He even refused to be interviewed by me in Arabic, insisting: "I have better command of Hebrew."

Military service is a family tradition in many Bedouin villages, especially those located in the north of Israel.

During my conversation with Maj Fallah, two men were standing listening to us. They were his cousins and both wore the uniform of the IDF.

"It's a legacy – it's something that has been passed on from generation to generation in my family," Maj Fallah explains.

"My father and his father served in the army too."

The Israeli army does not publish statistics about the exact number of non-Jewish enlisted soldiers, although it says hundreds of non-Jewish Israeli citizens – Muslims, Christians and Druze – join up every year.

Their numbers have grown rather than decreased since the controversial military assault on Gaza.

When I was in the army, they said it would be easy for me to get the job. I applied for a lot of things but it wasn't easy
Maher, Bedouin recruit

The Israeli military official responsible for minorities is Col Ahmed Ramiz.

He is Druze, another Arabic-speaking ethnic group with a presence in Israel and other parts of the Middle East.

He told me that the main obligation for any citizen of Israel "is to defend his country and to serve in the IDF".

How does this square with Israel's status as the world's only Jewish state? Why should Muslims apply – and why should Israel accept them? He explained the compromise in the following terms.

"We have decided that, due to the potential conflict between the Muslim person's national identities and their status as Israelis, we don't make it compulsory for Muslims to join the IDF," Col Ramiz said.

Muslims could work in every unit of the army, even elite units, although a Bedouin recruit recently applied to join the pilot's course and was declined.

"He didn't meet the specific requirements and various personality tests," the colonel told me, and denied it was anything to do with his ethnicity or religion.
7:46PM: Israeli President Shimon Peres talks to CNN about the Goldstone report, Iran and Israel's relationship with Turkey.
6:02PM: Meanwhile, is it just me or does Nozette in this picture look a bit like a bloated Gene Simmons?
5:45PM: Former NASA scientist Stewart David Nozette was yesterday arrested for offering to pass along classified information to an FBI agent posing as an Israeli intelligence officer.
In an affidavit supporting the complaint that was unsealed Monday, FBI agent Leslie Martell said that on Sept. 3, Nozette received a telephone call from an individual purporting to be an Israeli intelligence officer. The caller was an undercover FBI agent.

Nozette agreed to meet with the agent later that day at a hotel in Washington and in the subsequent meeting the two discussed Nozette's willingness to work for Israeli intelligence.

Nozette allegedly informed the agent that he had, in the past, held top security clearances and had access to U.S. satellite information, the affidavit said.

Nozette also was alleged to have said he would be willing to answer questions about this information in exchange for money. The affidavit said the agent explained that the Israeli intelligence agency, Mossad, would arrange for a communication system so Nozette could pass on information in a post office box.

Nozette agreed to provide regular, continuing information and asked for an Israeli passport, the government alleged.

The affidavit then alleged this sequence of events:

* Sept. 4. Nozette and the agent met again in the same hotel. The scientist allegedly said that while he no longer had legal access to any classified information at a U.S. government facility, he could, nonetheless, recall classified information by memory. Nozette allegedly asked when he could expect to receive his first payment, saying he preferred cash amounts under ten thousand so he would not have to report it. (U.S. anti-money laundering laws require that all transactions of $10,000 or more must be reported to the Internal Revenue Service, the tax collection agency.)

Nozette allegedly told the agent, "Well, I should tell you my first need is that they should figure out how to pay me … . They don't expect me to do this for free."

* Sept. 10. Undercover FBI agents left a letter in the designated post office box, asking Nozette to answer a list of questions about U.S. satellite information. The agents provided a $2,000 cash payment. Serial numbers of the bills were recorded.

* Sept. 16. Nozette was captured on videotape leaving a manila envelope in the post office box. The next day, agents retrieved the sealed envelope and found, among other things, a one-page document containing answers to the questions and an encrypted computer thumb drive.

One answer contained information, classified as secret, that concerned capabilities of a prototype overhead collection system.

* Sept. 17. Agents left a second letter in the post office box with another list of questions about U.S. satellite information. The FBI also left a cash payment of $9,000. Nozette allegedly retrieved the questions and the money the same day.

* Oct. 1. Nozette was videotaped leaving a manila envelope in the post office box. FBI agents retrieved it and found a second set of answers. The responses contained information classified as both top secret and secret, involving U.S. satellites, early warning systems, means of defense or retaliation against large-scale attack, communications intelligence information, and major elements of defense strategy.
What is not clear from this report is whether or not Nozette is Jewish and why the FBI targeted him.
Here is a site that seems to provide more answers.
Nov 1998-Jan 2008: Technical advisor to an aerospace company wholly owned by the Israeli government. Once a month, the company proposed questions or taskings to Nozette, who then answered the questions and received payment as a technical advisor.

—-

Nozette tells colleague that if the US Government tried to put him in jail (based on an unrelated criminal offense), Nozette would move to Israel or foreign country "A" and "tell them everything" he knows.

6 Jan 2009: Traveled to a foreign country "A" with two computer thumb drives.

28 Jan 2009: Returned to US without the two thumb drives.

3 Sept 09: Nozette contacted via telephone by FBI undercover employee (UCE) posing as an Israeli Mossad officer. Nozette agrees to meet that day for lunch at a hotel on Connecticut Ave, NW, in Washington, DC. At meeting, Nozette discusses willingness to work for Israeli intelligence for money; tells UCE he had access to US satellite information. UCE arranges a communication system via a post office box and gives Nozette a 'clean phone'. Nozette agrees to provide regular, continuing information; asks for Israeli passport and the "Right of Return" because his parents are Jewish.
Meanwhile, it seems as though Nozette is a better spy than first thought.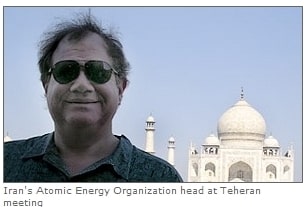 (courtesy of the Jerusalem Post, of course)
12:10PM: A couple of Goldstone-related links:
Robert Freedman argues in the Baltimore Sun that the Goldstone Report was destined to unfairly criticize Israel
Harold Evans sees the report as a moral atrocity
8:15AM: How bad is is the Goldstone Report? Even the founder of Human Rights Watch is strongly criticizing it.
As the founder of Human Rights Watch, its active chairman for 20 years and now founding chairman emeritus, I must do something that I never anticipated: I must publicly join the group's critics. Human Rights Watch had as its original mission to pry open closed societies, advocate basic freedoms and support dissenters. But recently it has been issuing reports on the Israeli-Arab conflict that are helping those who wish to turn Israel into a pariah state.

At Human Rights Watch, we always recognized that open, democratic societies have faults and commit abuses. But we saw that they have the ability to correct them — through vigorous public debate, an adversarial press and many other mechanisms that encourage reform.

That is why we sought to draw a sharp line between the democratic and nondemocratic worlds, in an effort to create clarity in human rights. We wanted to prevent the Soviet Union and its followers from playing a moral equivalence game with the West and to encourage liberalization by drawing attention to dissidents like Andrei Sakharov, Natan Sharansky and those in the Soviet gulag — and the millions in China's laogai, or labor camps.

When I stepped aside in 1998, Human Rights Watch was active in 70 countries, most of them closed societies. Now the organization, with increasing frequency, casts aside its important distinction between open and closed societies.

Nowhere is this more evident than in its work in the Middle East. The region is populated by authoritarian regimes with appalling human rights records. Yet in recent years Human Rights Watch has written far more condemnations of Israel for violations of international law than of any other country in the region.

Israel, with a population of 7.4 million, is home to at least 80 human rights organizations, a vibrant free press, a democratically elected government, a judiciary that frequently rules against the government, a politically active academia, multiple political parties and, judging by the amount of news coverage, probably more journalists per capita than any other country in the world — many of whom are there expressly to cover the Israeli-Palestinian conflict.

Meanwhile, the Arab and Iranian regimes rule over some 350 million people, and most remain brutal, closed and autocratic, permitting little or no internal dissent. The plight of their citizens who would most benefit from the kind of attention a large and well-financed international human rights organization can provide is being ignored as Human Rights Watch's Middle East division prepares report after report on Israel.

Human Rights Watch has lost critical perspective on a conflict in which Israel has been repeatedly attacked by Hamas and Hezbollah, organizations that go after Israeli citizens and use their own people as human shields. These groups are supported by the government of Iran, which has openly declared its intention not just to destroy Israel but to murder Jews everywhere. This incitement to genocide is a violation of the Convention on the Prevention and Punishment of the Crime of Genocide.

Leaders of Human Rights Watch know that Hamas and Hezbollah chose to wage war from densely populated areas, deliberately transforming neighborhoods into battlefields. They know that more and better arms are flowing into both Gaza and Lebanon and are poised to strike again. And they know that this militancy continues to deprive Palestinians of any chance for the peaceful and productive life they deserve. Yet Israel, the repeated victim of aggression, faces the brunt of Human Rights Watch's criticism.

The organization is expressly concerned mainly with how wars are fought, not with motivations. To be sure, even victims of aggression are bound by the laws of war and must do their utmost to minimize civilian casualties. Nevertheless, there is a difference between wrongs committed in self-defense and those perpetrated intentionally.

But how does Human Rights Watch know that these laws have been violated? In Gaza and elsewhere where there is no access to the battlefield or to the military and political leaders who make strategic decisions, it is extremely difficult to make definitive judgments about war crimes. Reporting often relies on witnesses whose stories cannot be verified and who may testify for political advantage or because they fear retaliation from their own rulers. Significantly, Col. Richard Kemp, the former commander of British forces in Afghanistan and an expert on warfare, has said that the Israel Defense Forces in Gaza "did more to safeguard the rights of civilians in a combat zone than any other army in the history of warfare."

Only by returning to its founding mission and the spirit of humility that animated it can Human Rights Watch resurrect itself as a moral force in the Middle East and throughout the world. If it fails to do that, its credibility will be seriously undermined and its important role in the world significantly diminished.
6:02AM: More from Tawil Fadiha, the Palestinian Minister of Uncontrollable Rage (hat tip: Richard).