Paypal No Longer Working with Terror Pals BDS South Africa
Last week I posted how Muhammed Desai, the Director of BDS South Africa, stupidly posted a selfie with a PFLP terrorist, and boasted of collaboration with the terrorist organization.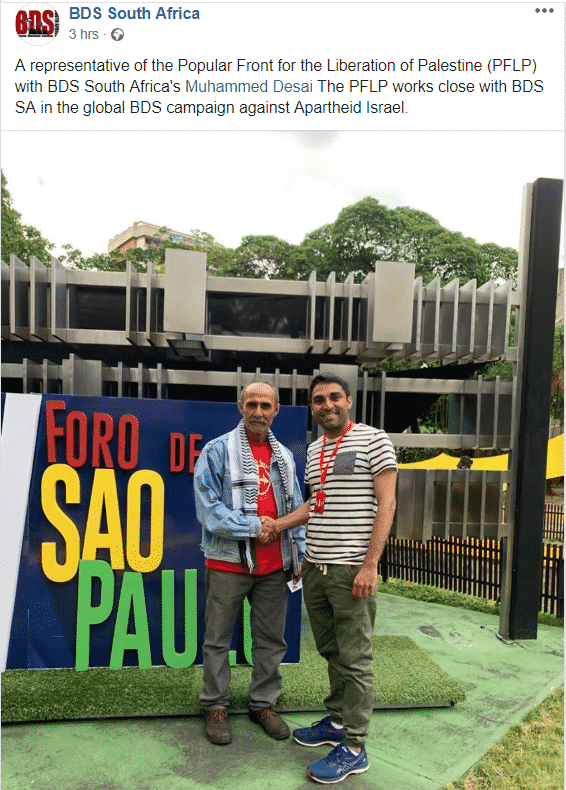 He subsequently deleted the post, probably realizing he had just gifted us proof that BDS is in bed with the terrorists, working towards Israel's destruction and not a "peaceful" solution as they claim.
Unfortunately for him, some of us were on to him and took screenshots. And it seems Paypal may have gotten wind of it too.
At the same time, The Jerusalem Post learned on Monday that BDS South Africa's PayPal account is now not accepting donations. It is unclear if the online payment service PayPal closed the account due to BDS South Africa's support and financing of a terrorist organization.

When the Post clicked on the electronic donation section of BDS South Africa, the entry by PayPal stated: "Things don't appear to be working at the moment. Please try again later." Post media queries to PayPal on Monday were not returned.
While the Jerusalem Post suggests it is unclear whether Paypal has blocked the account due to the terrorist connection, I can confirm I tried their Paypal and got the same message.
I also tried the Paypal of another organization and did not receive this message – meaning this is not a general problem. I'm willing to bet there is a cause-and-effect at play here. Desai seems to have #metoo-ed his organization.
For BDS, the jig is up.