Home
Authors
Posts by Judean Peoples Front
So Quds Day protesters are allowed to fly the flag of Hezbollah's "political wing?"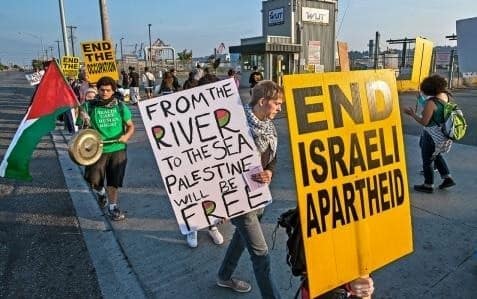 Anyone who recognizes the "true intent" behind President Trump's Muslim Ban must also recognize the true intent behind BDS
Linda Sarsour's rejection of Zionist Feminists lays bare her Jew-hatred.
The far Left exposes its own hypocrisy
Ray Hanania may be a "moderate," but he's beholden to same Palestinian myths peddled by Fatah and Hamas
By allowing Omri Boehm to define "liberal Zionism," the New York Times shows its bias
Don't let anyone tell you the UN is responsible for creating the State of Israel
It is imperative we understand the threats not just of the Alt-Right but of the Alt-Left as well.
Palestinian Ambassador to Kuwait confirms the real reason for October's anti-Jewish UNESCO resolution
When it comes to Palestinian unity, peace-loving Abbas will consider anything